JENNINGS, MO —It's down to two. Two teams are left standing. Two wins to claim The Basketball League championship.
The Potawatomi Fire (21-3 season, 6-0 playoffs) will meet the St. Louis Griffins (16-8, 7-2) in the TBL National Championship Finals. The Fire and Griffins will square off in a best-of-three series beginning Friday night in Jennings, Missouri.
Game one will be Friday, June 23 just outside of St. Louis, at Jennings High School. Tip-off will be at 7 p.m. Central. Game two will be Monday, June 26 at 7 p.m. from FireLake Arena in Shawnee, Okla. Game three if necessary would be on Tuesday, June 27, also at 7 p.m. from FireLake Arena.
Game one live stats are available HERE
Tickets for game two (and three if needed) are now available from potawatomifire.com/tickets or StubWire.com. All seats are $10 for adult general admission and $5 for kids 12 and under. Tickets will be available online or at the door. 
Fans can listen to the action on KGFF 100.9 FM /1450 AM / kgff.com, with Chris Cox on the play-by-play call live from St. Louis or Shawnee. You can also watch the games on TBLTV.tv with a paid subscription. Each TBL home team is responsible for the video broadcast of their home games. Cox's radio call is the audio for the live stream for all Fire home games. Check our social media for the link to watch game one for free and win game two tickets by entering in the Fire Finals Pick 'Em Challenge from TBL. 
HOW THEY GOT HERE
The Central Conference and West Region champion Fire advanced to this round by sweeping their in-state rival Enid Outlaws, then the defending TBL champion Shreveport Mavericks and finally the West Conference champion Seattle SuperHawks with a furious fourth quarter rally and comeback win on Monday night. The Midwest Conference and East region champion St. Louis Griffins reached the championship by defeating the Owensboro Thoroughbreds in the round one play-in game, then swept the Medora Timberjacks in round two. They followed that up by topping the Kokomo Bobkats in three games in a hotly contested conference final round series. Then the surprising Griffins stopped the Albany Patroons in the East Regional Final with a thrilling last-second game three win on Monday night in Albany.
NOW ABOUT MONDAY'S CRAZY COMEBACK VS SEATTLE
The first half of Monday's game between the Fire and Super Hawks was close and back and forth, but in the third quarter, Seattle started to pull away. They led by nine going to the fourth. In the first few minutes of the fourth quarter, they even extended that lead out to 19 points. From the 9:47 mark in the final frame, the Fire would go on a 38-9 run to win the game 124-114 and advance to the final round. Fire head coach Mark Dannhoff speaks about how they got down and then rallied to win.
"Well, you know, (Seattle) really can shoot the three and they've got some terrific players who are go-to guys," Dannhoff said. "(Alphonso) Anderson is really good, he can back you down to get you in the paint, finish at the rim. He also can stretch you out, and shoot threes. And then when (Emeche) Wells started to really make his threes on us, that was really tough on us because he hadn't shot it to that point really well. But we knew he was capable. But he caught fire and then everything became contagious and for a few minutes there, you know, we got stagnant. We turned the ball over a little bit. We did not get good shots and didn't shoot well. They had an opportunity to get out and run a little bit, considering we were turning the ball over and not taking great shots. But we got our heads down a little bit. We had to get refocused and, you know, the great thing was that when we were in our time outs and in discussions, everybody was still locked in that this was still a winnable game. That we could get this done, no matter how much time was left."
Dannhoff continued his thoughts on Monday's game and how they responded. "Yeah, it knocked us back a little bit, and it's something that really hadn't happened a whole lot throughout the season. And it happened, it didn't happen early and it was late. You could see that there was some concern, you know, maybe looking at the scoreboard and the clock and going, 'Are we gonna have to play tomorrow?' But they regrouped real fast. In Chuck Guy's leadership and some communication by several guys on the bench and the coaching staff and just saying, "Hey, listen, there are nine minutes to go. If we can just chip away at this one possession at a time, there's not a 19-point shot out there. We just have to work to knock it down to 12 to 10 to 9. Get it under ten by this certain time" and we went out and did just that. I mean, we were saying, let's get it down to 12 and you know, at the six-minute mark and we had it under 10 at the six-minute mark. So our defense really picked up. Our energy picked up again and we got back to pressuring the rim instead of settling for jump shots. I think there was some frustration pressuring the rim because we were going and felt we were getting fouled and not getting the call. So instead of going in there and not getting the call and considering it a missed shot or a turnover, guys were settling for jump shots. And I said, we got to get back to who we are and we did exactly that."
SOAKING IN THE MOMENT
Mark Dannhoff on how to balance enjoying the moment and taking one step at a time. "Well, you gotta let them enjoy the moment because it's a long, hard journey to get where we got to, especially the other night. If you don't let them enjoy it and have fun with it, sometimes you wonder … at what price is it worth it? So we've enjoyed several moments throughout the season — finishing the regular season (as champions), going undefeated at home, clinching a playoff series at home — things like that. Those are all wonderful accomplishments with yet a bigger picture ahead. So we have to enjoy the moment. Stay in the moment. But yet once we've done that and are grateful for all the things that we've done, we have to turn around and refocus on that next staircase and be ready to take that next step."
TEAM RANKS IN TBL
The Fire tied with the Atlantic City Gambits for the best regular season record in all of TBL at 21-3 and after tiebreakers, own home court advantage throughout the entire playoffs. They are the third highest-scoring team in TBL at 122.5 points per game, trailing the Gulf Coast Lions at 127.1. They are the league's top assist team (which should be pretty obvious with two of the best guards in Guy and Munson) at 26.4 dimes per game. And the Fire are sixth in total rebounds per game with 45.9 just behind the West Virginia Grind. Reading Rebels led the league with 48.3 boards per game. The Fire get to the free throw line better than any team in TBL, at 34.2 attempts per game. Their charity stripe made shots have them ranked 10th overall with 26.1 per game. Note: TBL includes playoff games in statistical leaders so the Fire and Griffins are continuing to move up and down the leaderboards.
St. Louis was 16-8 in the regular season and has raced to 7-2 in the playoffs. They rely on their defense as their scoring ranks in the lower third (32nd) of league teams at 107.9 per game on 46% shooting. They are also in the lower third of the pack in three-point shooting, with an average of 7.7 makes on 26.2 attempts. St. Louis makes 19.5 out of 26.5 shots from the foul line per night. The rebounding of the Griffins ranks 24th in TBL with 41.2 boards a night.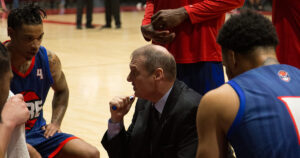 MAKING HIS MARK
Mark Dannhoff was hired as the new head coach for the Potawatomi Fire in the summer of 2022. Prior to Monday's game with Seattle, Dannhoff was named the 2023 TBL Coach of the Year. In two seasons as a TBL head coach, Dannhoff now has a record of 44-7 (86% winning percentage). He has guided the Fire to the overall number one seed with home-court advantage throughout the playoffs, Central Conference championships in both the regular and postseason, West Region title, and tied for the best record in TBL. The Fire are one of the highest-scoring teams in the league as well as a top defensive unit. Dannhoff is a motivated and experienced "program builder" with a history of successfully revitalizing and building basketball programs as a head and assistant coach, doing so with integrity, class, and a championship vision with nearly 30 years of experience on the college or pro level.
In his first TBL season, Dannhoff guided the Enid Outlaws to a regular season Central Conference Championship and a first-round bye in the TBL Playoffs with a 20–4 record. In addition to having a very exciting, fast-paced, and explosive offense, the Outlaws finished first in the conference for the fewest points allowed per game and were among the leaders for the entire TBL for wins and winning percentage.
WHY THIS GUY IS THE GUY
Named at the end of the regular season to the First Team All-Central Conference, MVP candidate Chuck Guy ranks in the top ten in all of TBL with 9.7 assists (2nd) and 2.9 steals (5th). The All-Star guard also averages 15.9 points and 5.7 rebounds. Guy has double-digit assists in 13 games so far and has recorded 11 double-doubles and one triple-double. He set the Fire team record for steals with seven thefts versus Little Rock in March and recorded his season high with four blocks in the clinching win vs Shreveport. Guy has been the Ironman, as he played the entire game ten times including five of six playoff games and 58 minutes in the double-overtime loss at Wichita. His shooting is stellar: 45% from the field, 33% from three-point range, and 79% from the free throw line. But more than just the numbers, Guy is the driving force for the Fire. "We go as he goes," says Mark Dannhoff. His leadership, passion, experience, toughness, & basketball IQ have led Fire to tie for the league's best record and home-court advantage throughout the playoffs. The TBL veteran is enjoying his most successful season team-wise, despite a slight dip in his statistical numbers due to the wealth of talent on this year's Fire squad. But that's just the way Chuck would want it.
MARK DANNHOFF ON CHUCK GUY
"Well, the thing about Chuck is this — he plays with such passion. I know some people might look at him and say, does he have an attitude or this or that? But the fact of the matter is, it's just that he plays with such passion and he just wants to win. He's probably the most unselfish player on our team. and people might find that a little hard to believe as well because of his numbers and the things that he can do. But he would give up any accolades, any honors to win and that's what he wants. He wants to win a championship. Chuck comes every day to earn respect and he shows up every day. He plays as hard and when one of your best players plays this hard, that forces everybody else to play hard. He's one of our hardest workers and everybody's got to match that and he demands it from his teammates."
MVP … OVERSHADOWED?
The 2022 TBL Most Valuable Player Deshawn Munson has stellar numbers once again but many would say he was slighted when he was named to 'only' the All-Central Second Team. Munson has used the slight as motivation and has been on a roll following the announcement. Munson recorded his fourth triple-double in game one at Seattle and has just missed out on others on several occasions including several times in the playoffs. He also has 21 double-doubles for the season, including the club record with 22 boards vs Rockwall. After playoff stats are included, the 6-4 guard now stands alone at the top in the entire league in total rebounds with 12.6 per game. Munson also ranks sixth in average assists per game with 7.6. Due to the talent and balance across the Fire roster, the scoring totals for all of their players have gone down. But Munson still leads the Fire in points per game, now with an even 20 points per game, one of seven Fire players averaging double figures with four others at 7.5 or more points per game. 
Following his performance Monday night helping the team to the finals, Dannhoff had this to say about Munson. "He did a great job. You know I was thinking about Deshawn this morning and in some ways, I almost feel like he's gotten overshadowed a little bit this year. Because his numbers are terrific and he's played his butt off the entire season. Maybe his stats have gone down in some areas a little bit, but that's because of who he has around him. But yet in big games when we really need him to excel at particular things — especially rebounding or defending, or scoring a ball for us in certain opportunities, he's been outstanding. I mean, he's given us another MVP performance this year. He just happens to be the reigning MVP on a team with some other guys competing for the MVP as well. He has done nothing but been just fantastic for us all year and I hope he knows that."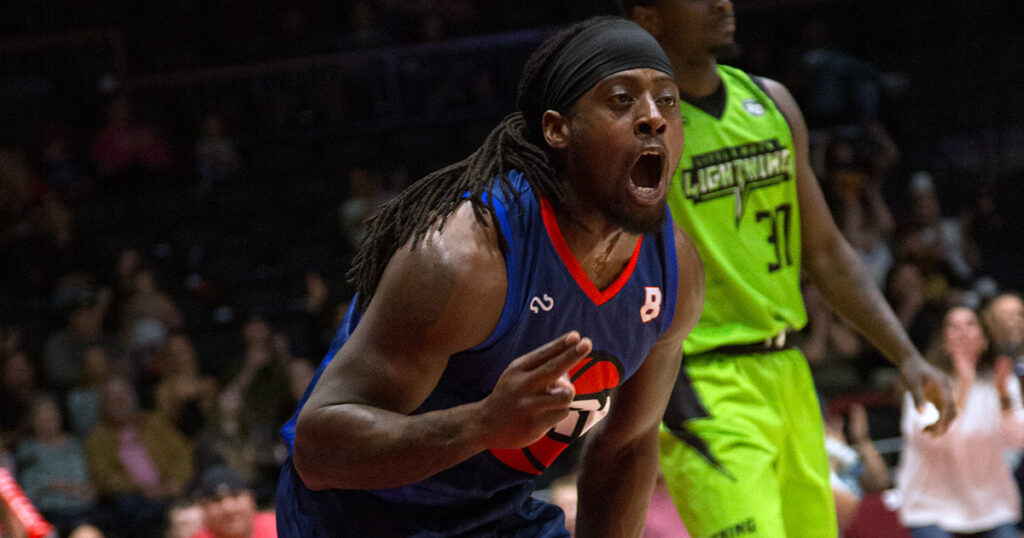 I WANT MOORE, MOORE, MOORE
Forward K.D. Moore, who technically stands seventh in TBL in field goal percentage (60.2%) and ninth in two-point field goal percentage (65.4%), was selected to the All-Central Third Team. [Note: Moore's rankings are actually higher when you examine the statistics as some teams (i.e. Long Beach) have erroneously only tracked made field goals during games and not missed shots resulting in absurd amounts of 'perfect' games from the field. So four Blue Waves players are 'ranked' in the top six with two-point percentages better than 67%, which doesn't line up with the results of their games. Something that needs to be corrected by TBL in the future.] 
Moore is second on the Fire with just under 17 points per game, and also averages 6.4 rebounds, two assists, and one steal per night. He's led the Fire in scoring many times this season including the series-clinching win over Enid. That win also included Moore's season high for assists (6) and blocks (4). He also had four blocks in the game one win in Seattle. His season high for points came against the Wichita SkyKings with 36 in the 105-90 win on April 23. Moore has three double-doubles on the season. Dannhoff on Moore following the sweep over Shreveport: "K.D. — he's got such a big heart and so much energy and just is a competitor. He wasn't going to let anybody get a rebound or get to the hoop without him having a chance to defend it."
STARTING BIGS ARE SCORING BIG
A strong argument could be made that the Fire deserved more than three players to receive league recognition. Their two other starters for the majority of the season, Lyle Hexom and Terry "T.J." Maston, had numbers worthy of honors and have been delivering at the most important time: the playoffs. Hexom came up huge with his season high 37 points including six three-pointers in game one at Seattle. The 2022 TBL Defensive Player of the Year and someone who often matched up defensively with the opponent's leading scorer, Hexom tallied 14.1 points and 7.2 rebounds per night during the year. His rebounds have especially picked up during the playoffs, with double digits in four of the last six games. Hexom and Moore led the block party as the Fire defense recorded a dozen rejections in Seattle to tie a team single game record. The former Big 12 Sixth Man of the Year for the Baylor Bears, Maston started all but a handful of games and averaged 14.5 points and 5.1 rebounds per game. His best game of the season came in game one versus Shreveport as he dominated to the tune of 38 points on 16 of 24 shooting. He also was magnificent in the series-clinching win over the Super Hawks on Monday night with 35 points on 16 of 22 shooting.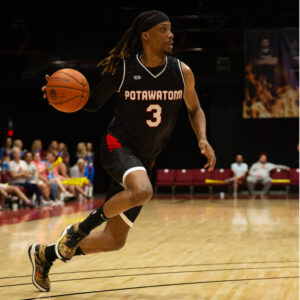 WE DIDN'T START (FOR) THE FIRE…
After joining the Fire in late March, Paul Harrison averaged 9.4 points and 4.2 rebounds in 23 games with the team this year. He was the 2022 TBL Finals MVP helping Shreveport to the title. Other reserves for the Fire who could've started for most other teams including Darin Johnson, who averaged 10.3 points per game in 16 games with the team. Ruston Hayward averaged 14.2 points per game in 11 games with the Enid Outlaws and then joined the Fire in late April and preceded to score 11.3 points per game in 11 games with the Fire. Hayward's defense and scoring were big keys in the huge comeback on Monday night. Je'lon Hornbeak scored nearly ten points a game in 10 games with the Fire in the first half of the season before returning to Texas. Guard Tevin Foster had 7.4 points per game on nearly 40% shooting from outside. Swingman Theo Johnson also averaged 7.4 points per game while shooting 42% from beyond the arc. Ricky Artis II joined the team late in the season after starring in a German pro league and averaged seven points per night in a handful of games while mainly being a defensive and rebounding specialist. Guard Rashaun Coleman and center Chris Brand each averaged five points per game with Brand also grabbing five boards per game.
MEET ME IN ST. LOUIS
The Griffins are a new TBL franchise in 2023 as TBL pro basketball was brought to the St Louis area by owner and head coach Nate Griffin. Griffin is actually also the mayor of nearby Wellston, Mo., a position he has held since 2014. He is also the executive director of TruVision basketball, an organization of more than 20 youth basketball teams that he manages.
According to Mark Singelais of the Albany Times-Union, Griffin said he did not deliberately name the team after himself. He and his wife Lawonda were considering names and Griffin thought of the griffin, sometimes also spelled griffon or gryphon, the mythical beast that's a hybrid of an eagle and lion. "It's the ultimate protector," Griffin said. "And (Lawonda) said, 'You know what? That might be something good.' And so once we put it out to the city that we're going to be named the Griffins, of course, people said, 'Hold on now, Nate. You're so egocentric. You're going to name the team after you.' And a light went on. Wow, I never thought to name it after me, but this could be great. It was never intended to be named after me."
Marktavian Payne leads the Griffins with 21.8 points per game. He was a TBL All-Star after a standout first half of the season but was away from the team for two months before rejoining St. Louis for the playoffs. Corey Boyd is a dominant post presence for the Griffins with 17.4 points and team-high 10.9 rebounds per game. Tavares Sledge is third on the team with 15.1 points per game. He also averages 6.1 boards per night. Both Boyd and Sledge have played in previous years for the Enid Outlaws: Boyd in 2022 for 11 games and Sledge as a major part of the 2021 championship Enid squad. B.J. Young goes for 14.7 points, while guard Marcus Latham averages 13.6 points. Timmy Goodwin is the sixth Griffin to average double figures as he hits for 12.1 points per game. Goodwin hit the game-winner with two seconds left Monday night in game 3 at Albany, sending St. Louis to the championship round. NiSean Rigmaiden averages 9.2 and 3.4 assists from the point for the Griffins.
DANNHOFF ON THE GRIFFINS
"They're very good and they've been really good the last third of the season. They've had some roster changes and really started to come together. They've got great chemistry. They play extremely hard. They're physical. They're gonna get up into you. They're gonna be very hands-on, pressuring you, trying to get you to turn the basketball over and make you take bad shots. Then they seem to really play inside out. They go through Corey Boyd down in the post, who I'm a little bit familiar with because he played with us at Enid a year ago. Then they've got (Tavares) Sledge, who played on the national championship team with Enid two years ago, so he's got some pedigree and knows how to get it done. But they've got really good guards. They love to pressure the rim. They're similar to us in some ways on offense, so it's gonna be a really big challenge. They're a really good basketball team playing extremely well. They went on the road and won in Albany, and that's not easy to do. So we're gonna have to be focused. We're gonna have to be ready and take it one step at a time."
ON THE CHALLENGES OF PLAYING ON A SHORTER COURT
The Griffins play their home games at Jennings High School, which has an 84-foot court length as opposed to the 94-foot standard court used by many pro or college leagues and TBL teams like the Fire's FireLake Arena. Dannhoff commented, "Well, the biggest thing is spacing, especially for offenses like ours, where we space the floor and open driving lanes and try to option out defenders and things like that. The closeout distances are much shorter. It's more compact in those gaps that we're trying to create and the opportunities we're trying to pressure the rim. I know they get out and press a little bit and try to pick you up in the backcourt. It's less space in the backcourt to advance the ball and get the ball where you needed to get it.  It makes it much more difficult to really get out and run, which we like to do. Now, it affects them in the same way. It's both ways. But since we're playing in that gym, we're just gonna have to make those adjustments because it's the same for both teams."
ON HIS MESSAGE TO THE TEAM AFTER REACHING THE FINALS
"Yeah, just back to the steps and how proud I was of them, and that they have something within reach. Sometimes adversity hits and you've got to reach beyond the break. That's what we're gonna have to do this week is reach beyond the break because it's gonna be a very physical, tiring battle with these guys, 'cause they want the same thing. Everybody in this league wants the same thing you want and they're gonna compete to go take it. You just have to go take it yourself. No one's gonna hand it to you. We knew Seattle was not gonna lay down, and they certainly did not by any means. We expected that, so we knew we had a battle on our hands from the beginning. And these are things that you have to go out and take and you have to earn. You earn it in practice. You earn it in how you take care of your body. You earn it in everything little detail that you do to prepare yourself and get ready for those games.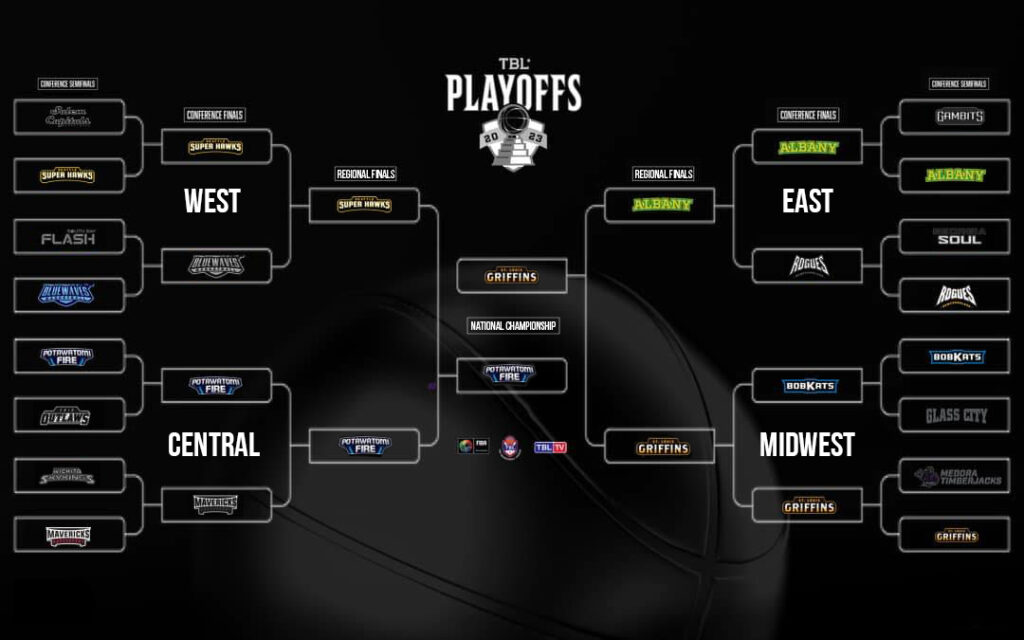 ---
ABOUT THE FIRE AND THE BASKETBALL LEAGUE
The Potawatomi Fire just wrapped up their second TBL (The Basketball League) regular season in 2023. They were 21-3 in the regular season (a three-game win improvement from 2022) to earn the top seed in the Central Conference portion of the playoffs as well as homecourt advantage throughout the entire playoffs. The Fire are the first professional basketball team owned by a Native American tribe (Citizen Potawatomi Nation) in Oklahoma. The Fire compete in the Central Conference of TBL, a men's professional basketball league, now with 49 teams in over 20 different states across the U.S. and Canada. The Fire organization was named the 2022 winner of the Jim Koch Award as TBL's Best Ran Business, despite the Fire being a first-year franchise. The dance team of the Fire, the Fire Girls, were named TBL's 2022 Best Dance Team and Central Conference Best Dance Team in 2023.
The TBL season begins in February and runs through June, concluding with a championship playoff tournament. The players that make up the rosters of the TBL teams are former NCAA (Division I, II or III) or NAIA athletes. Many have played in the NBA or NBA's developmental G-League as well as professionally overseas for several years and are continuing their careers closer to home or seeking a larger contract in another professional league.
Story by Justin Wollard • Photo by Landon Kidney