SHAWNEE, OKLA — Facing a must-win for the first time all playoffs, the Potawatomi Fire bounced back from a disappointing game one overtime loss and dominated the St. Louis Griffins, 127-95, in the TBL Finals game two, forcing a decisive winner-take-all game three on Tuesday. 
The Fire used the formula they've exhibited all season. Control the paint. Move the ball. Get to the foul line. Force turnovers. Score fast break buckets. Monday night's game was a prime example of that winning formula.
"I'm just really pleased for the guys," said Fire head coach Mark Dannhoff. "I know they were frustrated after Friday's game and disappointed. But their ability to refocus and rededicate themselves, to coming back here and forcing a game three and giving themselves an opportunity. It's something they've wanted to achieve all year long, something I'm just really pleased for them. Before the game in the locker, we said nothing has changed. We still just have to win two games. Just because we lost one doesn't mean anything. We still just win two games and they were like, 'absolutely!' And they went out there and they just played with such great intensity, a great passion, and got the job done."
K.D. Moore bounced back from a frustrating Friday night that saw him foul out after only seven points. On Monday, he led the Fire with 30 points, five rebounds, two steals, and two blocks. Deshawn Munson continued his impressive run with his 14th straight game with a double-double. The streak, which extends back into the regular season, started on May 4th versus Enid. The reigning TBL MVP's numbers on Monday: 20 points, and 11 assists, to go along with seven rebounds, two steals, and a block. Paul Harrison came off the bench to tally 19 points, including 3/4 from outside.
Also among the six Fire players in double figures was MVP candidate Chuck Guy, who had also had a double-double with 11 points and 11 assists, along with eight rebounds and three steals. T.J. Maston and Ricky Artis II each had 10 points, with Artis grabbing five boards. While Lyle Hexom had only six points, the reigning TBL Defensive Player of the Year once again made his biggest contribution on the defensive end. All of his seven rebounds were on the defensive end, he blocked two shots and was instrumental in holding down the Griffins' leading scorer from Friday, Martavian Payne. Payne, a 2023 TBL All-Star, had just eight points after leading his team with 30 points in game one. 
Tevin Foster had eight points and Ruston Hayward had five points and seven rebounds. Chris Brand and Theo Johnson had four points each while Brand also grabbed three boards. The Fire played 11 guys and all of them scored at least four points.
Dannhoff, named a week ago as the 2023 TBL Coach of the Year, was pleased with the all-around team effort on Monday. "Really thrilled for K.D. and his bounce back from a frustrating night for him Friday night," Dannhoff said. "Really pleased with him. I'm really happy with Chris Brand and the minutes he gave us tonight, just terrific off the bench. You know, Deshawn did his thing. Chuck did his thing. You know, just really pleased with everybody stepping up and contributing in some fashion or another."
The Fire never trailed in the contest and led 30-20 after the first quarter, 59-46 at the half, and 88-73 after three. The Fire dominated the paint, outscoring the Griffins 72-42. They also had a 25-7 edge in points off turnovers, which was part of their huge advantage in fast break points at 37-9. The Fire committed 15 turnovers after 22 on Friday night.
Marcus Latham had 34 points to lead the Griffins, which included five three-pointers. Ray Crossland also had 20 for the visitors.
Dannhoff looks ahead to Tuesday's game and what it will take. "We just got to come out and find the energy. Just do what we do and excel at what we do and not get caught up in what they're doing, or the things they're trying to do to us, 'cause we have our principles set. Just do what we're supposed to do on both ends of the floor. Everybody executes their jobs, and if we do that, we'll give ourselves a chance to win it."
Tuesday's title game will tip off at 7 p.m. from FireLake Arena. Both teams are seeking their first championship as both are new to TBL, with the Fire in just their second season while the Griffins are in their rookie campaign. The final game of the 2023 TBL season can be seen on TBLTV.tv with a paid subscription. It can also be heard on KGFF 100.9 FM / 1450 AM / kgff.com  with Chris Cox on the call. Cox's call is the audio for the live stream on TBLTV.tv.
BOX SCORE: FIRE 127, GRIFFINS 95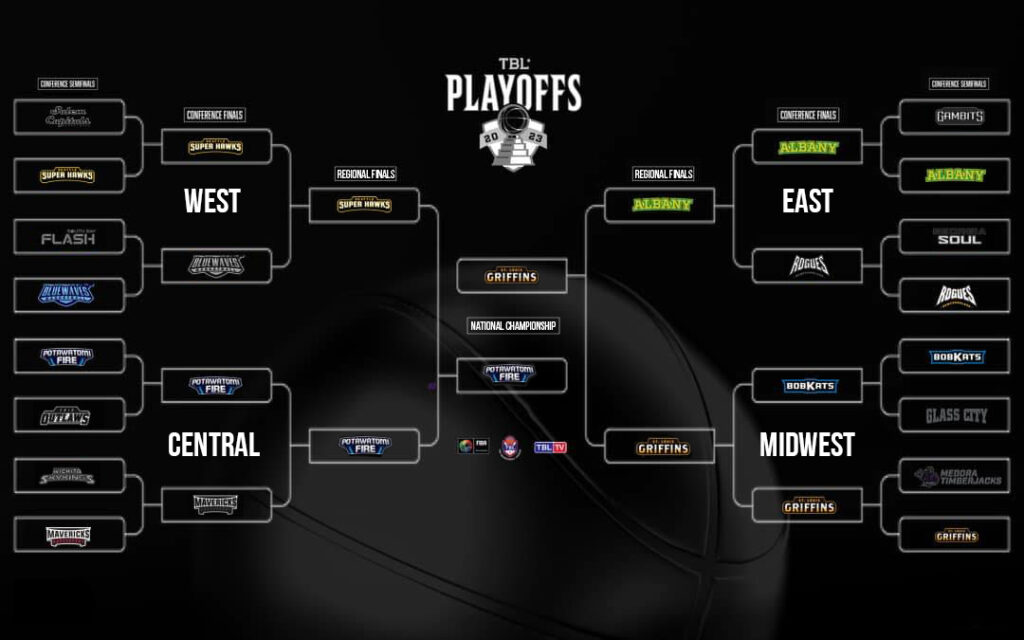 ---
ABOUT THE FIRE AND THE BASKETBALL LEAGUE
The Potawatomi Fire just wrapped up their second TBL (The Basketball League) regular season in 2023. They were 21-3 in the regular season (a three-game win improvement from 2022) to earn the top seed in the Central Conference portion of the playoffs as well as homecourt advantage throughout the entire playoffs. The Fire are the first professional basketball team owned by a Native American tribe (Citizen Potawatomi Nation) in Oklahoma. The Fire compete in the Central Conference of TBL, a men's professional basketball league, now with 49 teams in over 20 different states across the U.S. and Canada. The Fire organization was named the 2022 winner of the Jim Koch Award as TBL's Best Ran Business, despite the Fire being a first-year franchise. The dance team of the Fire, the Fire Girls, were named TBL's 2022 Best Dance Team and Central Conference Best Dance Team in 2023.
The TBL season begins in February and runs through June, concluding with a championship playoff tournament. The players that make up the rosters of the TBL teams are former NCAA (Division I, II or III) or NAIA athletes. Many have played in the NBA or NBA's developmental G-League as well as professionally overseas for several years and are continuing their careers closer to home or seeking a larger contract in another professional league. As of late June, this is currently the highest level of basketball still active in the state of Oklahoma and just two steps below the NBA.
Story by Justin Wollard • Photo by Landon Kidney