SEATTLE, WASH — The Potawatomi Fire overcame several different types of adversity on Friday night, many that they hadn't seen in the 2023 season. Behind a huge 37-point night from the reigning Defensive Player of the Year Lyle Hexom, and triple-doubles (or nearly so) from the 2022 TBL MVP Deshawn Munson and 2023 MVP candidate Chuck Guy, the Fire used a 40-point fourth quarter to pull away from the Seattle Super Hawks and win game one of the TBL Regional Finals, 124-105.
"Yeah, I'm really proud of our guys," said Fire head coach Mark Dannhoff. "We talked about this being an adversity trip. You know — a long flight, getting up early and continuing tomorrow morning  … But then just playing on the road against a team that's lost one home game the entire year. A very good team that can shoot the ball and score a variety of ways with a lot of talent. Just to come and continue to battle, continue to fight, grind, and pull it out in the end. Just really proud of these guys."
The Fire had six players in double-figure scoring.  Hexom had his season-best game with 37 points, 12 rebounds, four blocks, and three assists. He also knocked down six three-pointers on fifteen attempts. Munson had his fourth triple-double of the year with 24 points, 19 rebounds, 11 assists and two blocks. Guy just missed a triple-double with eight points, 13 assists, and 11 rebounds.  
"Lyle was terrific," Dannhoff said. "I know he got off to a little bit of a slow start, but I think he was so focused on guarding Anderson that he was forgetting about his offense. He was doing a nice job and then kind of got some shots to fall and that carried over and what a terrific job. The guys continued to look for him and he continued to work and it was just a really, really good night for him."
K.D. Moore added 15 points to go with six rebounds, four assists, and four blocks. Paul Harrison also had 15 points and three rebounds. Ricky Artis II added 13 points with three assists and a block and steal. T.J. Maston had 10 points, with a pair of boards and a pair of blocks. 
Potawatomi got off to a good start especially defensively, as Hexom and Moore blocked five Seattle shots in the first quarter and held the home team to 32% shooting in the first frame. They led 11-4 midway through the quarter and were up 26-20 after one. But the Super Hawks pushed back in the second quarter, tying the game midway through the period. Then the Fire turned it back in their favor, going on a 21-12 run to take a 58-49 lead into the locker room.
In the third quarter, the Super Hawks rallied back, helped considerably by the officiating. The Fire were called for 10 fouls total in the period while the Hawks were not whistled for a single foul. The Hawks converted those freebies into 16 points (of the 31 they had total) to cut the lead to 84-80 heading the final stanza. The Fire refused to let that adversity get to them and proceeded to go on a 8-0 run in the first two minutes of the fourth and expanded it to as much as 21 during the final frame before ending with the 124-105 final score.
Alphonso Anderson and Jordan Bell each had 24 points for the Super Hawks. Anderson also led with 15 rebounds while Bell had 10 boards. The Fire handed Seattle just their second loss at home this season.
The Fire shot 51% (50/97) while holding the Super Hawks to 38% (36/93). The Fire dominated points in the paint, as they have to most of their opponents this season. The tally in game one was Fire – 82 and Super Hawks just 42 points. Potawatomi also outrebounded Seattle 61-51 and handed out 37 assists to 25 for the home team. The 12 blocks tied the Fire single-game record, while they also notched eight steals.
Dannhoff remarked on the defensive effort of the Fire. "Well, we talked about our rotations and going, and our guys could be free to go if we promised on the back side to help our helper and we did that. Especially the fact that they were getting to those shots really changed the game, made them think and maybe hesitate once in a while at the rim, so they start settling for the jump shots. But, a credit to our guys for just playing with such great intensity and protecting our rim."
On the play of his big men, Dannhoff commented: "They did a nice job defensively and offensively for us out there. I know T.J. missed a couple of bunnies early, but he was really defending at the rim, rebounding. I thought Paul Harrison gave us great minutes in both halves. He really did a nice job. I know when he goes to shoot that three or to get that turnaround jump shot, I feel very confident in that. But they gave us really good minutes. We did end up being a little bit of small ball towards the end, where I let Lyle play the 5. He was playing so well and we went with another wing to match up with their wings because they went small too, in the end as well. So it was a little bit of strategy there, but it worked out well for us. We had played a really good game on the road and continuing, hopefully we can play well again when we get back home."
Game two will be Monday, June 19 at 7 p.m. Central (5 p.m. Pacific) from FireLake Arena in Shawnee, Okla. Game three if necessary would be Tuesday, June 20, also at 7 p.m. Central from FireLake Arena. The Fire will try to advance to the final round and look to remain unbeaten both at home and during the playoffs. Tickets for game two (and three if needed) are available now from potawatomifire.com/tickets or StubWire.com. All seats are just $10 and kids 12 and under get in free. 
If they can't make the games, fans can listen to the action on KGFF 100.9 FM /1450 AM / kgff.com, with Chris Cox on the play-by-play call live from Seattle or Shawnee You can also watch the games on TBLTV.tv with a paid subscription. Cox's radio call is the audio for the live stream for all Fire home games.
The other side of the bracket matches East Conference champion Albany Patroons (with former Fire team members: coach Derrick Rowland and forward Mustapha Traore) and the Midwest Conference champion St. Louis Griffins. St. Louis won game one of the series Thursday night in St. Louis by a score of 108-86.
BOX SCORE: FIRE 124, SUPER HAWKS 105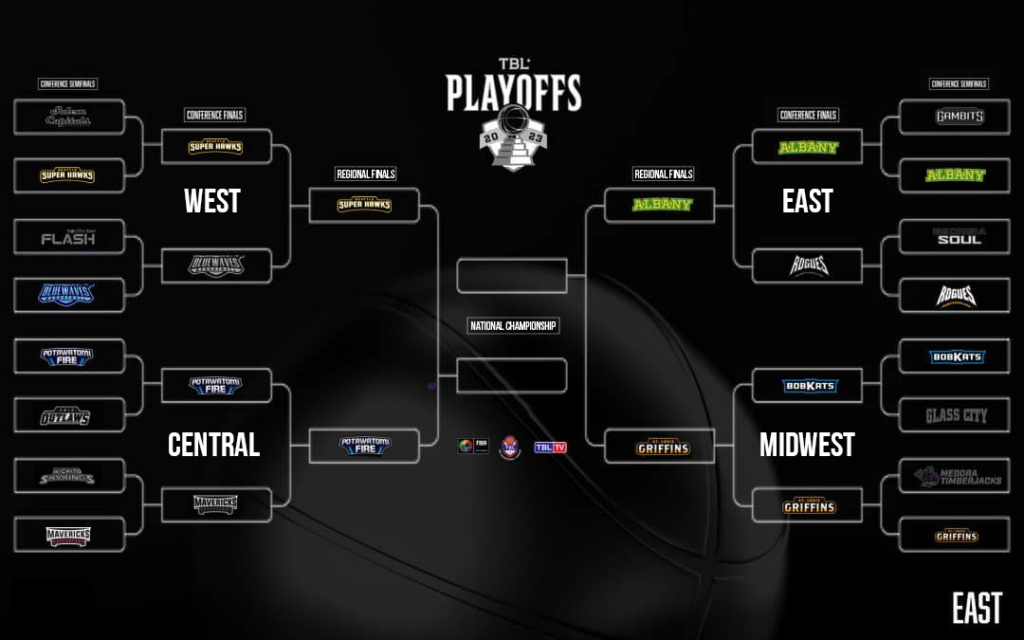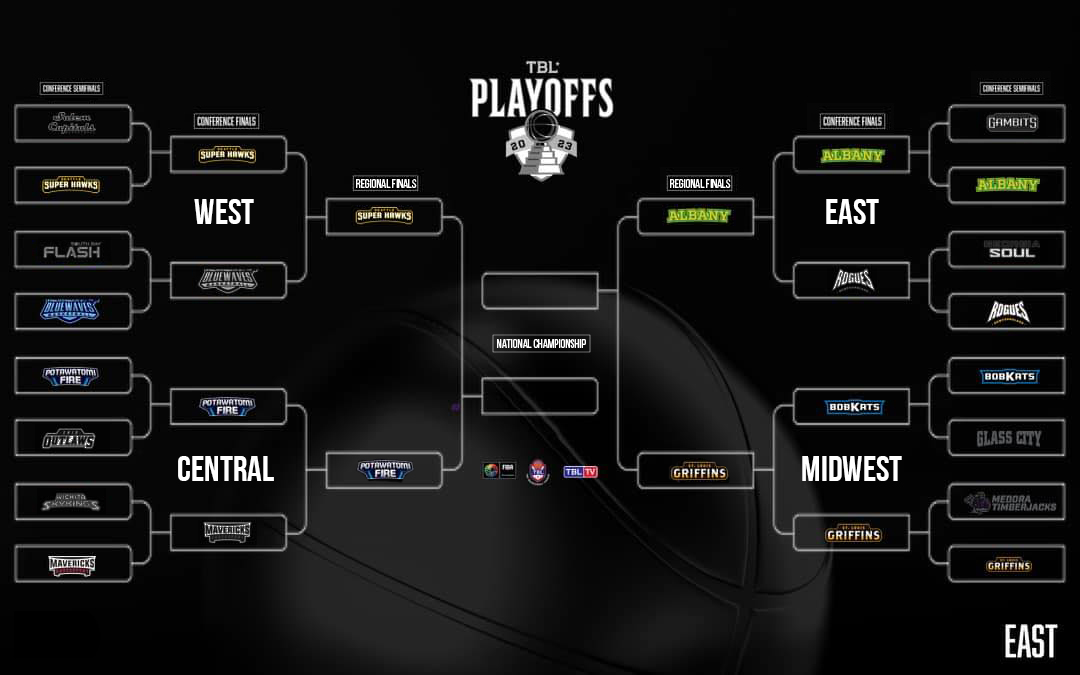 ---
ABOUT THE FIRE AND THE BASKETBALL LEAGUE
The Potawatomi Fire just wrapped up their second TBL (The Basketball League) season in 2023. They were 21-3 in the regular season (a three-game win improvement from 2022) to earn the top seed in the Central Conference portion of the playoffs as well as homecourt advantage throughout the entire playoffs. The Fire are the first professional basketball team owned by a Native American tribe (Citizen Potawatomi Nation) in Oklahoma. The Fire compete in the Central Conference of TBL, a men's professional basketball league, now with 49 teams in over 20 different states across the U.S. and Canada. The Fire organization was named the 2022 winner of the Jim Koch Award as TBL's Best Ran Business, despite the Fire being a first-year franchise. The dance team of the Fire, the Fire Girls, were named Best Dance Team.
The TBL season begins in February and runs through June, concluding with a championship playoff tournament. The players that make up the rosters of the TBL teams are former NCAA (Division I, II or III) or NAIA athletes. Many have played in the NBA or NBA's developmental G-League as well as professionally overseas for several years and are continuing their careers closer to home or seeking a larger contract in another professional league.
Story by Justin Wollard • Photo by Landon Kidney