SEATTLE, WASH. — There are just four teams remaining in TBL, and just four wins are needed by any of those clubs to claim the TBL Championship.
Two of TBL's top teams all season long will battle it out late Friday night on the west coast to get one of those wins. The Potawatomi Fire, in their second year of existence, will take on the Seattle Super Hawks, a rookie TBL franchise in the TBL Regional Finals. Game one, of what could also be called the national semifinals, will be Friday, June 16 in Seattle, Wash., at the Royal Brougham Pavilion on the campus of Seattle Pacific University. Tip-off will be at 9 p.m. Central (7 p.m. Pacific). Game two will be Monday, June 19 at 7 p.m. Central (5 p.m. Pacific) from FireLake Arena in Shawnee, Okla. Game three if necessary would be Tuesday, June 20, also at 7 p.m. Central from FireLake Arena.
The Central Conference champion Fire advanced to this round by sweeping two of their biggest rivals, both the Enid Outlaws and the defending TBL champion Shreveport Mavericks. The West Conference champion Super Hawks advanced by defeating the Salem Capitals in three games in round two and sweeping the Long Beach Blue Waves in the conference finals. Both teams were the number one seeds in their respective conferences and received first-round byes in the TBL Playoffs. The other side of the bracket matches East Conference champion Albany Patroons (with former Fire head coach Derrick Rowland and Fire fan favorite Mustapha Traore) and the Midwest Conference champion St. Louis Griffins. St. Louis won game one of the series Thursday night in St. Louis by a score of 108-86.
"But at the end of the day, it's been our investment, the investment they made in themselves, the investment they made in each other, and the investment they made in this coaching staff and in return from the coaching staff. They took all that, they worked hard every single day. … You've earned it. Now don't let anybody take it from you because you put in the time and you made the investment."


— Fire head coach Mark Dannhoff
ANOTHER STEP, ANOTHER STAIRCASE
Fire head coach Mark Dannhoff has spoken several times this season about each goal being a step on the staircase, which leads to another. "They're all small steps leading to the biggest step, but they're all big to us because each one we set forth to accomplish, sacrifice, and commit to doing through hard work and just the relationships we've had to build with each other and through coaches and the organization. All that stuff is hard, but I think sometimes people tend to forget what we're trying to do as a small group is very difficult to do that's why not many people get to do it. There's a lot of coaches out, there's a lot of really good hall of fame players who just never got to win a championship, so it's not easy and it takes a lot of talent." 
"I asked the guys this week, why are we here? Dannhoff continued. "We're here, yeah because we're talented and our abilities helped us get here. But at the end of the day, it's been our investment, the investment they made in themselves, the investment they made in each other, and the investment they made in this coaching staff and in return from the coaching staff. They took all that, they worked hard every single day. Some of them started in the offseason before they got here. Then others, you know, once they got here and through training camp. It takes time to develop those relationships and get everybody on the same page. So it was the investment that they put in. That is the reason we were where we were, and that was in Shreveport when we first talked about debt on the road, knowing it was gonna be a difficult game against a very good team. The only thing I said at the end was, you know, you've earned it. Now don't let anybody take it from you because you put in the time and you made the investment."
SOAKING IN THE MOMENT
Mark Dannhoff on how to balance enjoying the moment and taking one step at a time. "Well, you gotta let them enjoy the moment because it's a long, hard journey to get where we got to, especially the other night. If you don't let them enjoy it and have fun with it, sometimes you wonder … at what price is it worth? So we've enjoyed several moments throughout the season — finishing the regular season (as champions), going undefeated at home, things like that. Those are all wonderful accomplishments with yet a bigger picture ahead. So we have to enjoy the moment. Stay in the moment. But yet once we've done that and are grateful for all the things that we've done, we have to turn around and refocus on that next staircase and be ready to take that next step."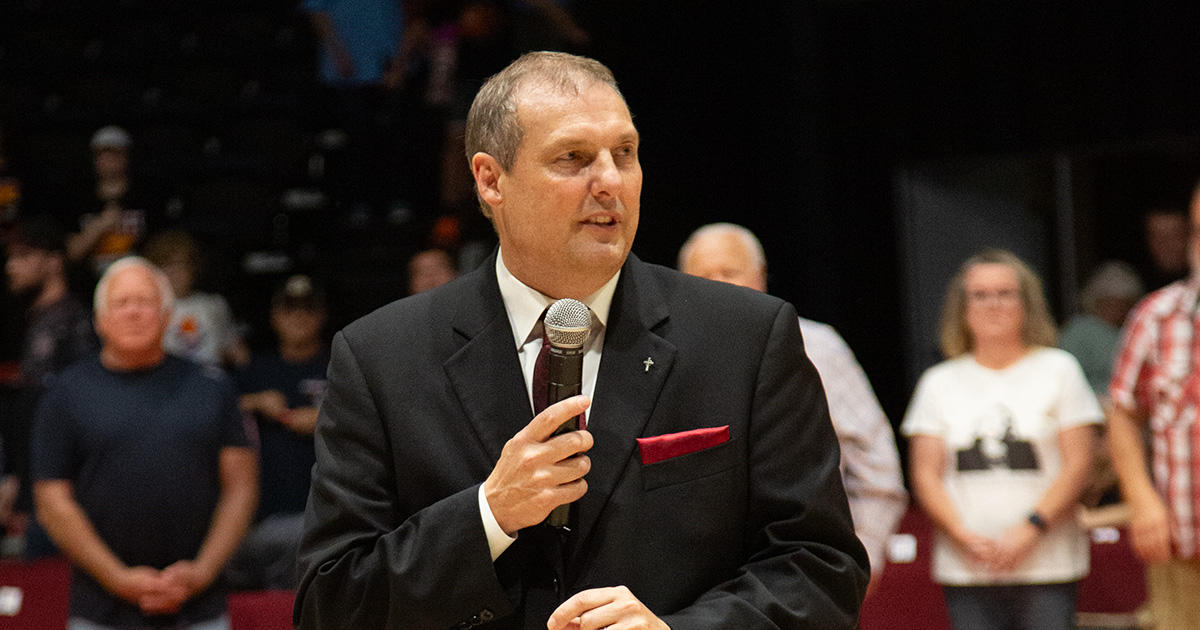 MAKING HIS MARK
Mark Dannhoff was hired as the new head coach for the Potawatomi Fire in the summer of 2022. In two seasons as a TBL head coach, Dannhoff now has a record of 42-7 (86% winning percentage). Dannhoff is a motivated and experienced "program builder" with a history of successfully revitalizing and building basketball programs as a head and assistant coach, doing so with integrity, class, and a championship vision. He has guided the Fire to the overall number-one seed with home-court advantage throughout the playoffs, and Central Conference championships in both the regular and postseason and tied for the best record in TBL. The Fire are one of the highest-scoring teams in the league as well as a top defensive unit. All things being said, Dannhoff is a top candidate for TBL Coach of the Year.
In his first TBL season, Dannhoff guided the Enid Outlaws to a regular season Central Conference Championship and a first-round bye in the TBL Playoffs with a 20–4 record. In addition to having a very exciting, fast-paced, and explosive offense, the Outlaws finished first in the conference for the fewest points allowed per game and were among the leaders for the entire TBL for wins and winning percentage.
WHY THIS GUY IS THE GUY
Named at the end of the regular season to the First Team All-Central Conference, MVP candidate Chuck Guy ranks in the top ten in all of TBL with 9.4 assists (2nd) and 2.8 steals (5th). The All-Star guard also averages 16.1 points and 5.6 rebounds. Guy has double-digit assists in 11 games so far and has recorded nine double-doubles and one triple-double. He set the Fire team record for steals with seven thefts versus Little Rock in March and recorded his season high with four blocks in the clinching win vs Shreveport. Guy has been the Ironman, as he played the entire game (48 minutes) nine times including all four playoff games and 58 minutes in the double-overtime loss at Wichita. His shooting is stellar: 45% from the field, 34% from three-point range, and 79.5% from the free throw line. But more than just the numbers, Guy is the driving force for the Fire. "We go as he goes," says Fire coach Mark Dannhoff. His leadership, passion, experience, toughness, & basketball IQ have led Fire to tie for the league's best record and home-court advantage throughout the playoffs. The TBL veteran is enjoying his most successful season team-wise, despite a slight dip in his statistical numbers due to the wealth of talent on this year's Fire squad. But that's just the way Chuck would want it.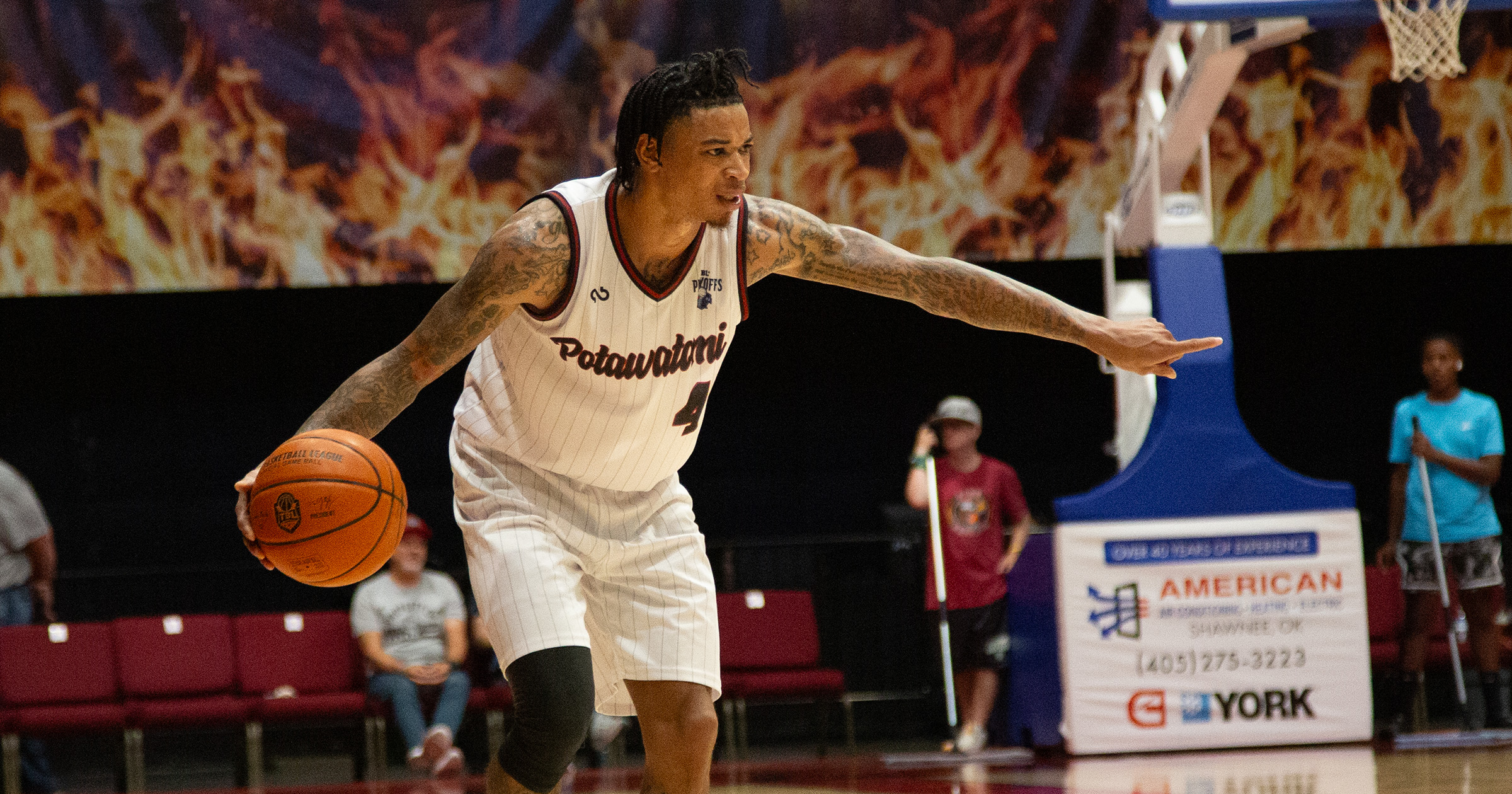 MARK DANNHOFF ON CHUCK GUY
"Well, the thing about Chuck is this — he plays with such passion. I know some people might look at him and say, does he have an attitude or this or that? But the fact of the matter is, it's just that he plays with such passion and he just wants to win. He's probably the most unselfish player on our team. and people might find that a little hard to believe as well because of his numbers and the things that he can do. But he would give up any accolades, any honors to win and that's what he wants. He wants to win a championship. Chuck comes every day to earn respect and he shows up every day. He plays as hard and when one of your best players plays this hard, that forces everybody else to play hard. He's one of our hardest workers and everybody's got to match that and he demands it from his teammates."
MUNSON IS AMAZING AGAIN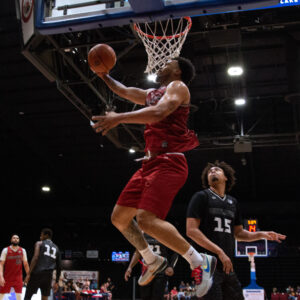 The 2022 TBL Most Valuable Player Deshawn Munson has stellar numbers once again but many would say he was slighted when he was named to 'only' the All-Central Second Team. Munson has used the slight as motivation and has been on a roll following the announcement. Munson recorded his third triple-double vs Little Rock to close the regular season and has just missed out on others on several occasions including in the playoffs versus Enid. He also has 19 double-doubles for the season, including the club record with 22 boards versus Rockwall. After playoff stats are included, the 6-4 guard now stands at the top in the entire league in total rebounds with 12.2 per game, tied with three others. Munson also ranks sixth in average assists per game with 7.5. Due to the talent and balance across the Fire roster, the scoring totals for all of their players have gone down. But Munson still leads the Fire in points per game with 18.3, one of seven Fire players averaging double figures with four others at nearly eight or more points per game.
Following his team season high of 41 points in the clincher over the Mavs, Dannhoff had this to say about Munson. "Deshawn Munson was just unstoppable in the paint down there for us and then for him to be able to step out and make a half-court shot and a three-pointer late when we needed it, he just came up clutch." Munson had 29 of his 41 points in the first half, mainly scoring near the basket as he used his strength and size to continually post up Mavericks' players. Not known normally for his outside shot, Munson hit two huge threes. The two-time All-Star punctuated the first half with a buzzer-beating three from half-court. He also knocked down a corner trey in the early fourth quarter as the shot clock was about to expire.
I WANT MOORE, MOORE, MOORE
Forward K.D. Moore, who technically stands sixth in TBL in field goal percentage (60.7%) and ninth in two-point field goal percentage (65.5%), was selected to the All-Central Third Team. [Note: Moore's rankings are actually higher when you examine the statistics as some teams such as Long Beach have erroneously only tracked made field goals during live-scored games and not missed shots resulting in absurd amounts of 'perfect' games from the field. So four Blue Waves players are 'ranked' in the top six with two-point percentages better than 67%, which doesn't line up with the results of their games. Something that needs to be corrected by TBL in the future.] Moore is second on the Fire with 17 points per game and also averages 6.4 rebounds, 1.9 assists, and one steal per night. He's led the Fire in scoring many times this season including the series-clinching win over Enid. That win also included Moore's season high for assists (6) and blocks (4). His season high for points came against the Wichita SkyKings with 36 in the 105-90 win on April 23. Moore has three double-doubles on the season. Dannhoff on Moore following the last game: "K.D. — he's got such a big heart and so much energy and just is a competitor. He wasn't going to let anybody get a rebound or get to the hoop without him having a chance to defend it."
STARTING BIGS MAKING BIG STATEMENTS
A strong argument could be made that the Fire deserved more than three players to receive league recognition. Their two other starters for the majority of the season, Lyle Hexom and Terry "T.J." Maston, had numbers worthy of honors. Hexom, the 2022 TBL Defensive Player of the Year and someone who often matched up defensively with the opponent's leading scorer, tallied 13.3 points and 7.2 rebounds. His rebounds have especially picked up during the playoffs, with double digits in three of the four games. Hexom and Moore led the charge as the Fire defense shut down the hot-shooting Mavericks in the second half of game one in Shreveport, holding the Mavs to just 3 of 19 from three in the second half after the Mavs had made 9 of 23 from outside in the first half. The former Big 12 Sixth Man of the Year for the Baylor Bears, Maston started all but a handful of games and averaged 13.8 points and 5.1 rebounds per game. His best game of the season came in game one versus Shreveport as he dominated to the tune of 38 points on 16 of 24 shooting.
WE DIDN'T START FOR THE FIRE…
After joining the Fire in late March, Paul Harrison averaged 9.6 points and 4.2 rebounds in 21 games with the team this year. He was the 2022 TBL Finals MVP helping Shreveport to the title. Other reserves for the Fire who could've started for most other teams including Darin Johnson, who averaged 11 points per game in 15 games with the team. Ruston Hayward averaged 14.2 points per game in 11 games with the Enid Outlaws and then joined the Fire in late April and preceded to score 10.9 points per game in 10 games with the Fire. Je'lon Hornbeak scored nearly ten points a game in 10 games with the Fire in the first half of the season before returning to Texas. Guard Tevin Foster had 7.8 points per game on nearly 40% shooting from outside. Swingman Theo Johnson also averaged 7.8 points per game while shooting 42% from beyond the arc. Ricky Artis II joined the team late in the season after starring in a German pro league and averaged 6.4 points per night in a handful of games while mainly being a defensive and rebounding specialist. Guard Rashaun Coleman and center Chris Brand each averaged five points per game with Brand also grabbing five boards per game.
TEAM RANKS IN TBL
The Fire tied with the Atlantic City Gambits for the best regular season record in all of TBL at 21-3 and after tiebreakers, own home-court advantage throughout the entire playoffs. They are the third highest-scoring team in TBL at 122.4 points per game, trailing the Gulf Coast Lions and Seattle at 127.1. They are the league's top assist team (which should be pretty obvious with two of the best guards in Guy and Munson) at 25.9 dimes per game. And the Fire are fifth in total rebounds per game with 46.1 just ahead of the West Virginia Grind. Reading Rebels lead the league with 48.3 boards per game. The Fire get to the free throw line better than any team in TBL, at 34.1 attempts per game. Their charity stripe makes have them ranked 10th overall. Note: TBL includes playoff games in statistical leaders so the Fire, Super Hawks, Patroons, and Griffins are continuing to move up and down the leaderboards.
Seattle was 22-4 in the regular season and has gone 4-1 in the playoffs. They stand in second in TBL scoring, just ahead of the Fire at 123.6 points per game. Like the Fire, Seattle is one of the league's best near the basket, averaging 35.2 two-point field goals made on 59 attempts per contest. They are in the middle of the pack in three-point shooting, with an average of 10 makes on 28 attempts. Seattle makes one more free throw on average compared to the Fire, with 23 out of 30 per night. Much like the Fire's previous opponent, the Shreveport Mavericks, the Super Hawks are the second-best thieving team in TBL with 11.9 steals per game. Seattle only ranks near the middle of the league teams in rebounds with 41.2 boards per night.
SEEKING SEATTLE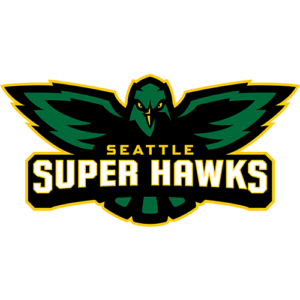 The Super Hawks are a new TBL franchise in 2023 as men's pro basketball returned to Seattle for the first time since 2008 when the NBA's SuperSonics relocated to Oklahoma City and became the Thunder. The Super Hawks have embraced the Sonics (as well as the NFL Seahawks) and sport a similar color scheme along with bringing in former Sonics players such as Gary Payton and Xavier McDaniel for appearances. Their play on the court has excited fans about future possibilities as well. 
The super-balanced attack of the Super Hawks features 13 players listed as scoring in double figures, though four of those are no longer on the roster. Those players still part of the club are led by Alphonso Anderson with team highs of 22.8 points and 9.1 rebounds per game after joining the team in late April. JD Tisdale Jr. averages 17.8 points and 3.4 rebounds, primarily off the bench. He had 29 points in the clinching win over Salem in round two. Michael Carter III was named to the TBL All-West Conference First Team after tallying 17.4 points, 4.5 assists, 4.2 rebounds, and 1.8 steals per game. Carter did not play during the Long Beach conference final series. Power forward Jordan Bell goes for 15 points and 8.3 rebounds per night. Sekou Toure averages nearly 15 points while getting 6.5 boards per game. Emeche Wells, who played college ball at SWOSU in Weatherford, goes for 14.6 points and 4.6 rebounds. Wells had 38 points in the game one win over Long Beach. A pair of guards, Trevion Brown and Davon Bolton, average 11.2 and 10.4 points respectively. Forward Hezekiah 'Zeke' Quinlan also averages 10.1 points and 6 rebounds a night. Phillip Pepple Jr. also gets eight points and 2.5 rebounds each game.
DANNHOFF ON THE SUPER HAWKS AND HEADING WEST
"Well, obviously, it's a short time to prepare for them. We said, especially for our staff …  let's not get too far ahead. Let's focus on where we are and let's not get too caught up in what lies ahead. Because we got to get through this first. Because getting just through our conference is quite an accomplishment. So it kind of puts a crunch on preparing for (Seattle). Fortunately, we got a great staff who can sit down, break down film, and get things done fairly quickly, but it'll be new. I told the guys today — you're gonna have new officials that have probably never seen us play before. You're gonna have a group of guys that have only seen you on film, just like we've only seen them on film. So it's gonna be a little bit different. We're gonna go to a part of the country where we haven't been this year. There's gonna be a different time zone. And we've got to prepare for all these things prior to the day before we got to — we got to take care of ourselves the right way, throughout the week."
"But Seattle is just a really, really good team. I think they average around 123 points a game. They hold their opponents to around 105, 106 points per game. They are very big, and when I say that, it's kind of all the way down the line. I mean, they've even got big, strong guards. They've got good depth — 8, 9 guys, 10 guys deep and they all can score the basketball. They're long and athletic and they really can eat some space and give you some problems on the offensive end. They remind me of Wichita, only with bigger bigs. (Alphonso) Anderson is obviously very talented and scores a lot of points for them. (JD) Tisdale came off the bench the other day and he averages almost 20 points a game. I think 8 of the 9 main guys right now average double figures."
DANNHOFF ON TRUSTING THE PROCESS
"We talk about trusting the process, trusting our training, and trusting each other and the things that we've done all year and prepared for. Through the 24-game regular season and now into playoffs, prepare us for this opportunity. There won't be a whole lot of things that we'll see that are new, other than it's being executed by different guys. So we just need to stick to our principles defensively, make sure that we continue to get good rotations, contain the basketball, and challenge all the shots from everybody. And then only give them one opportunity because they're gonna crash the glass — they're a good offensive rebounding team as well. So just sticking to what we do and focusing on ourselves will prepare us for the first game, along with some film and some minor adjustments. Then we will learn each game from there."
Tickets for game two (and three if needed) are available now from potawatomifire.com/tickets or StubWire.com. All seats are just $10 and kids 12 and under get in free. Live stats for Friday's game will be available at http://bitly.ws/ICRA  Fans can listen to the action on KGFF 100.9 FM /1450 AM / kgff.com, with Chris Cox on the play-by-play call live from Seattle on Friday (or Shawnee on Monday and Tuesday). You can also watch the games on TBLTV.tv with a paid subscription. Each TBL home team is responsible for the video broadcast of their home games. Cox's radio call is the audio for the live stream for all Fire home games.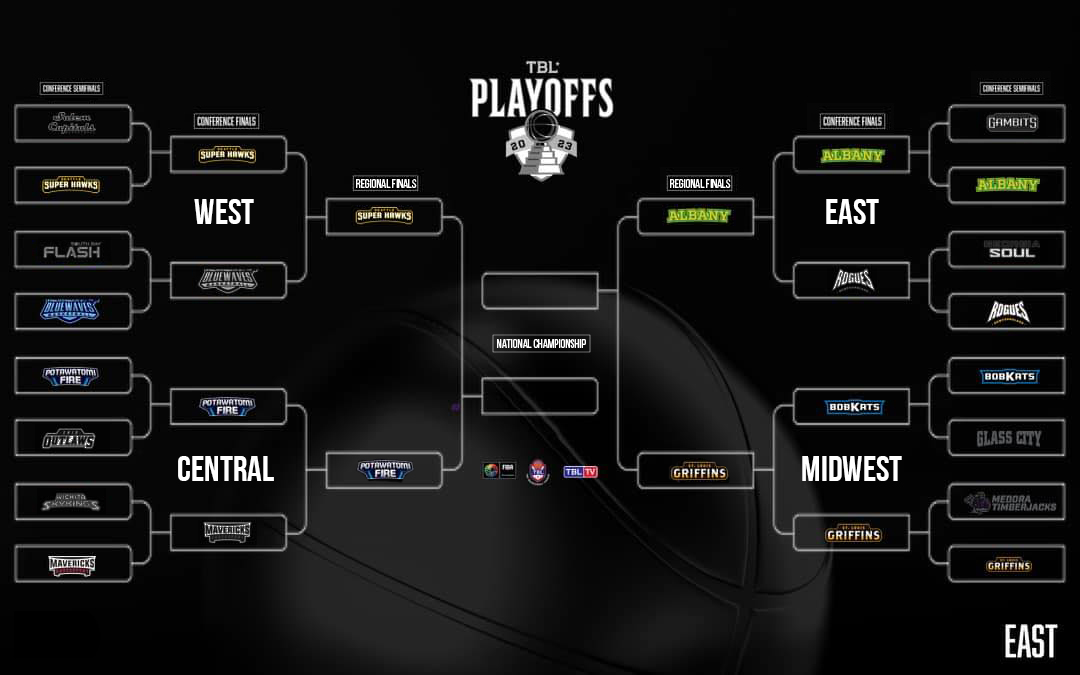 ---
ABOUT THE FIRE AND THE BASKETBALL LEAGUE
The Potawatomi Fire just wrapped up their second TBL (The Basketball League) season in 2023. They were 21-3 in the regular season (a three-game win improvement from 2022) to earn the top seed in the Central Conference portion of the playoffs as well as homecourt advantage throughout the entire playoffs. The Fire are the first professional basketball team owned by a Native American tribe (Citizen Potawatomi Nation) in Oklahoma. The Fire compete in the Central Conference of TBL, a men's professional basketball league, now with 49 teams in over 20 different states across the U.S. and Canada. The Fire organization was named the 2022 winner of the Jim Koch Award as TBL's Best Ran Business, despite the Fire being a first-year franchise. The dance team of the Fire, the Fire Girls, were named Best Dance Team.
The TBL season begins in February and runs through June, concluding with a championship playoff tournament. The players that make up the rosters of the TBL teams are former NCAA (Division I, II or III) or NAIA athletes. Many have played in the NBA or NBA's developmental G-League as well as professionally overseas for several years and are continuing their careers closer to home or seeking a larger contract in another professional league.
Story by Justin Wollard • Photo by Landon Kidney