SHAWNEE, OKLA— The Central Conference Champion Fire will open their TBL playoff run on Thursday night, June 1, when they visit their in-state rival Enid. Tipoff for game one of the second round best-of-three playoff series against the Outlaws will be 7 p.m. from the Stride Bank Center in Enid. Live stats for game one are available here. Game two will be Saturday night, June 3 at 7 p.m. from FireLake Arena, with game three if necessary on Sunday night, June 4 at 7 p.m. also from FireLake Arena. The winner of this series will face the winner of the #2 Shreveport Mavericks and #3 Wichita SkyKings beginning next Thursday, June 8. All TBL Playoff matchups from this point on will be best-of-three series with the higher seed traveling to the lower seed for game one and hosting the remaining games in the series.
---
"We set forth a lot of little mini goals and and stayed focused on every step as we went. They never got ahead of themselves. They always focused on the step at hand. When we did get beat on the road in the tough losses, they were able to regroup and reload. They'd get ready to go for the next one and put it behind them."
– Fire head coach Mark Dannhoff
---
HOW THE FIRE GOT TO THIS POINT
In their second year as a TBL franchise, the Potawatomi Fire entered the 2023 season with heightened expectations and lofty goals. While their first season was a solid start, in the end, it concluded on a sour note of unfinished business after a second round exit.
General manager David Qualls set out to upgrade the team, with the backing of the tribal ownership, Citizen Potawatomi Nation. The team hired a new head coach, Mark Dannhoff. (The previous coach Derrick Rowland returned to his home of Albany, New York where he again is a successful coach with the Patroons of TBL.) Dannhoff, who coached at in-state rival Enid, also brought along nearly thirty years of collegiate coaching experience as an assistant for several NCAA Division I programs. Those years of experience also brought along many connections and relationships that paid dividends as the Fire were able to bring in a number of top talent. That talent saw that the CPN took care of its players across many aspects. They already had some of the league's best — be it facilities, staff, dance team, or fan support — even after just one season of pro ball. 
Starting with the 2022 TBL Most Valuable Player Deshawn Munson, along with other Fire returnees Tevin Foster and Theo Johnson, Qualls and Dannhoff began building their revamped squad. Several key players followed Dannhoff to Shawnee including 2022 All-TBL First Team member Chuck Guy, as well as top players like K.D. Moore, Ricky Artis II, and Darin Johnson,. Other offseason additions included Lyle Hexom, the 2022 TBL Defensive Player of the Year; former Baylor Bear Terry "T.J." Maston; Paul Harrison, who was a big part of the 2022 Shreveport Mavericks' championship run; Je'lon Hornbeak, who played in the NBA G League for Fort Wayne after playing collegiately for Oklahoma and Monmouth; Chris Brand, a 6-10 center who had played all over the world; and local product Rashaun Coleman, who starred for Oklahoma City University.
LEADING THE FIRE
The Fire had three players selected to the recently announced TBL All-Central teams. All-Star guard Chuck Guy, who ranks second in assists per game (9.8) and is tied for fourth in steals (3.0), was named to the All-Central First Team. Guy has established himself as one of the best players in TBL over the last few seasons and is again a strong contender for league MVP. Forward K.D. Moore, who stands fifth in TBL in field goal percentage (61.6%), was selected to the All Central Third Team. The two-time All-Star Munson was named to the Second Team, despite having great numbers once again in 2023. He is also a strong contender for MVP. His stats aren't as eye-popping as in his MVP campaign of a year ago, but that's primarily because the Fire have considerably more talent around him. 
Munson used the slight as motivation and certainly made a statement with his play, both on Saturday night and really throughout the season. Munson recorded his third triple-double vs Little Rock to close the regular season and has just missed out on others on several occasions. As a 6-4 guard, he stands tied for third in the entire league in total rebounds: 12 per game which is just a half a board behind the leader (Ethan Chargois of Enid with 12.5, who is on the All-Central First Team). Munson also ranks sixth in average assists per game with 7.6. Due to the talent and balance across the Fire roster, the scoring totals for all of their players have gone down. But Munson still leads the Fire in points per game with 18.6 ppg, one of EIGHT Fire players averaging double figures with two others going for over nine points per game. 
A strong argument supported by statistical comparisons could be made that the Fire deserved more than three players to receive league recognition. Their two other starters for the majority of the season, Lyle Hexom and T.J. Maston, had numbers worthy of recognition. Hexom, the 2022 TBL DPOTY and who often matched up defensively with the opponent's leading scorer, tallied 13.8 points and 6.7 rebounds. He also recorded 21 blocks and 13 steals and shot 36% from outside. Maston started all but a handful of games, and averaged 13.2 points and 5.2 rebounds per game. 
Other leading scorers for the Fire include several off the bench who could've started for most other teams: Darin Johnson, who averaged 14 points per game in 11 games with the team. Ruston Hayward averaged 14.2 points per game in 11 games with the Outlaws and then joined the Fire in late April and preceded to score 11.9 points per game in 9 games with the Fire. Paul Harrison scored 10 points and 4.7 rebounds for the Fire. Je'lon Hornbeak scored nearly ten points a game in 10 games with the Fire in the first half of the season before returning to Texas. Guard Tevin Foster had 9.2 points per game on over 40% shooting from outside. Swingman Theo Johnson averaged 7.8 points per game while shooting 42% from beyond the arc. Ricky Artis II joined the team late in the season after starring in a German pro league and averaged 6.7 points per night in a handful of games. Guard Rashaun Coleman and center Chris Brand each averaged five points per game with Brand also grabbed five boards per game.
The Fire tied with the Atlantic City Gambits for the best record in all of TBL at 21-3 and after tiebreakers, own home court advantage throughout the entire playoffs. They are the third highest scoring team in TBL at 124.4 points per game, trailing the Gulf Coast Lions at 127.1. They are the league's top assist team (which should be pretty obvious with two of the best guards in Guy and Munson) at 26.7 dimes per game. And the Fire rank sixth in total rebounds per game at 46.3.
That the Fire own the league's best record despite playing arguably the toughest schedule was surprising to Dannhoff, but credits his players. "I give all the credit to the guys in the locker room," he said. "We set forth a lot of little mini goals and and stayed focused on every step as we went. They never got ahead of themselves. They always focused on the step at hand. When we did get beat on the road in the tough losses, they were able to regroup and reload. They'd get ready to go for the next one and put it behind them, because you just can't have hangovers in our conference from a loss because it'll get you again. So I'm really proud of them but just the fact that they stayed together. They had one common goal. They're all on the same page. They continue to work and get better every day. They've done that to this point and it's a credit to them."
THIS SEASON BETWEEN THE RIVALS
The Fire took three of four meetings this season with the Outlaws. The Fire defeated the Outlaws 102-91 in Shawnee on March 23 behind seven players in double figures led by Deshawn Munson with 18 points and 10 rebounds. Enid returned the favor a few days later, handing the Fire their first loss of 2023 with 91-86. The game was the third in four days for the Fire.
Game three during the regular season series went to the Fire. Potawatomi scored a big road win on May 4 with a 128-111 victory in Enid behind another balanced attack and huge night from Munson (30 pts/12 reb/7 ast). And on May 14, the Fire scored another tough win, winning 108-98 at FireLake Arena. Munson missed a triple-double by one board and was one of three Fire players (K.D. Moore and T.J. Maston) with 20 plus points.
All matchups between the clubs again this season have been heated, filled with physical play. Technical fouls and other drama have also been part of the play. Ejections, coaching changes and even a player (Hayward) who played well for both teams during the season. 
ABOUT THE OUTLAWS
Enid finished the season at 13-11 in fourth place. In the play-in game on Tuesday in Enid, the Outlaws took down the fifth-seeded Little Rock Lightning, rallying from a three-point halftime deficit to win going away 130-110. Guard Martaveous 'Tay' McKnight set a new Outlaws single game record with 48 points. For the season, the Outlaws were led by two former Oklahoma Sooners in Ethan Chargois and Marvin Johnson. Chargois, who played most of his collegiate career at SMU before finishing at OU, was named to the All-Central First Team after averaging 18.2 points, a league high 12.5 rebounds, and 3.9 assists per game. Johnson was named to the All-Central Third Team and averaged 20.5 points, 5.3 rebounds, and 3.2 assists per night. McKnight pushed his scoring average up to 18.3 points per game following the record performance and also goes for 4.2 rebounds and 3.4 assists per game. Kaylon Tippins also averages double figures with 12.1 points while grabbing 7.1 boards per game. After bringing back head coach Ed Corporal, who led Enid to the 2021 TBL Championship, to start this season, the Outlaws reversed course during the season and changed to Donald Harris to lead the club.
Fans can listen to the games on KGFF 100.9 FM/1450 AM/kgffradio.com with Chris Cox on the play-by-play call. They can also watch the games on TBLTV.tv with a paid subscription. The live stream on TBLTV is produced for telecast by each home team.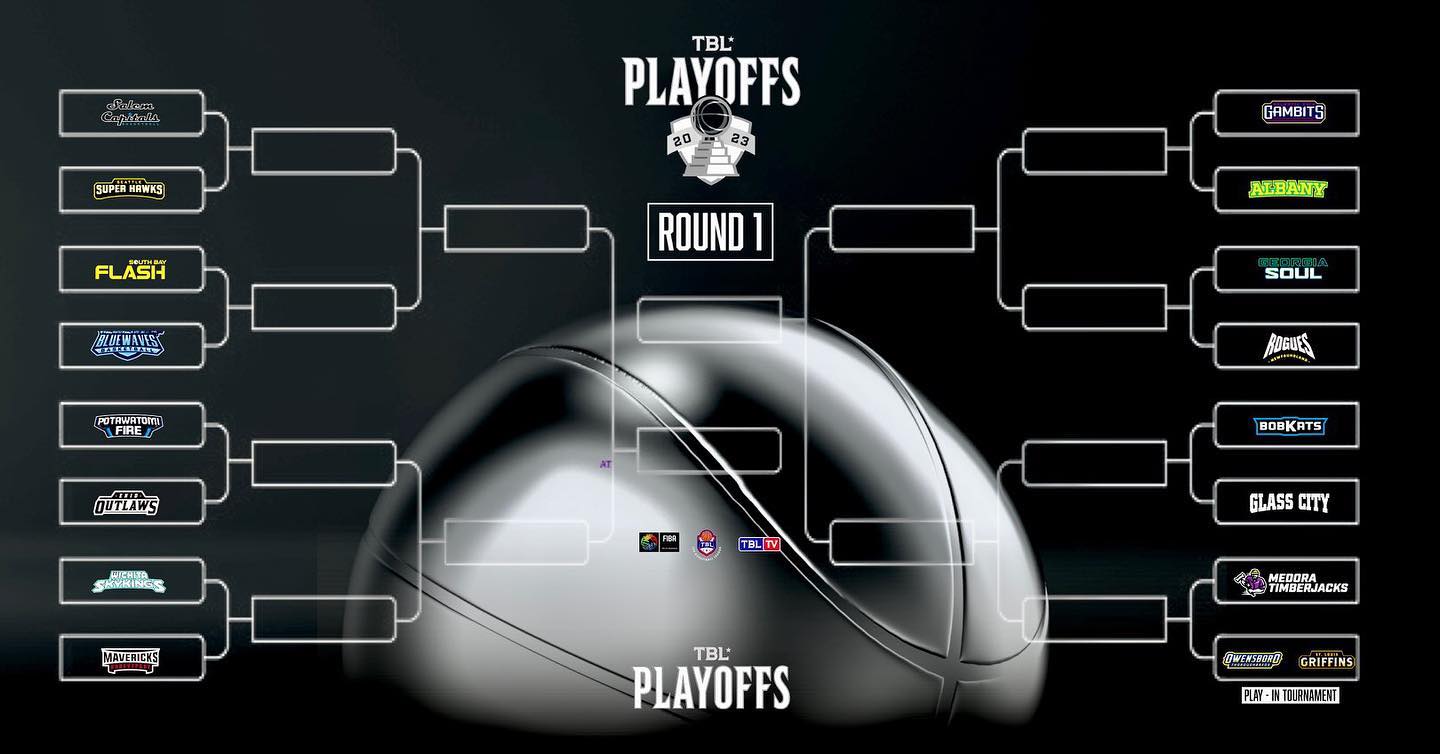 ---
ABOUT THE FIRE IN 2022 AND THE BASKETBALL LEAGUE
The Potawatomi Fire concluded their first TBL (The Basketball League) season in June 2022, winning 21 of 29 games played including the playoffs. They were 18-6 in the regular season to earn the third seed in the Central Conference portion of the playoffs. They won their first round playoff series before falling in the conference semifinal round. The Fire are the first professional basketball team owned by a Native American tribe (Citizen Potawatomi Nation) in Oklahoma. The Fire compete in the Central Conference of TBL, a men's professional basketball league, now with nearly 50 teams in over 20 different states across the U.S. and Canada. The Fire organization was named the 2022 winner of the Jim Koch Award as TBL's Best Ran Business, despite the Fire being a first-year franchise. The dance team of the Fire, the Fire Girls, were named Best Dance Team.
The TBL season begins in February and runs through June, concluding with a championship playoff tournament. The players that make up the rosters of the TBL teams are former NCAA (Division I, II or III) or NAIA athletes. Many have played in the NBA or NBA's developmental G-League as well as professionally overseas for several years and are continuing their careers closer to home or seeking a larger contract in another professional league.
Story by Justin Wollard • Photo by Landon Kidney