SHREVEPORT, LA. — Hello Mavericks, our old friends. We've come to play you again.
The Potawatomi Fire and Shreveport Mavericks renew their intense rivalry in the best-of-three Central Conference Championship round of The Basketball League Playoffs. Game one of what promises to be a knock-down-drag-out series will be Thursday, June 8 at 7 p.m. from the Gold Dome on the Centenary College campus in Shreveport, Louisiana. The teams will travel back to Shawnee for game two (and game three if necessary) at FireLake Arena on Saturday, June 10, and if necessary, Sunday, June 11. Both games will also tip off at 7 p.m. The winner of this series will play the winner of the West Conference finals between the Seattle Superhawks and the Long Beach Blue Waves, beginning on Thursday, June 15.
The two top seeds in the Central meet for the second time in two years in the playoffs, after both sweeping their opponents in the previous round (Fire defeated Enid while Shreveport topped Wichita). The Fire were eliminated in the 2022 TBL Playoffs by the eventual TBL champion Mavericks. That Fire team included several current members of the Fire including Deshawn Munson, Tevin Foster, and Theo Johnson. In the following round, Shreveport also eliminated the Enid Outlaws which featured several current members of the Fire including Chuck Guy, K.D. Moore, Ricky Artis II, and Darin Johnson, as well as Fire head coach Mark Dannhoff and assistant coach Emmanuel Toney. So unfinished business awaits many of the Fire team members as they look to continue their postseason pursuit. 
Coach Dannhoff knows it's going to be a battle. "Yeah, there's no question about that. I think both teams know that," he said. "Both organizations know that. You've got two teams that have had terrific seasons, finishing right there at the top of the Central, the very tough Central Conference. You know, if the entire tournament was seeded, we probably wouldn't face each other yet, and with the opportunity to continue to advance and maybe at some point, get to the championship and face each other. But with it being set up the way it is and having to get out of your own conference, we'll play this weekend and it's gonna, for lack of a better term — it's gonna be a war. I hate to use that term. But it's really gonna be a battle and I think both teams are excited about it, fired up about it, and focused on it. I know it's gonna be really something."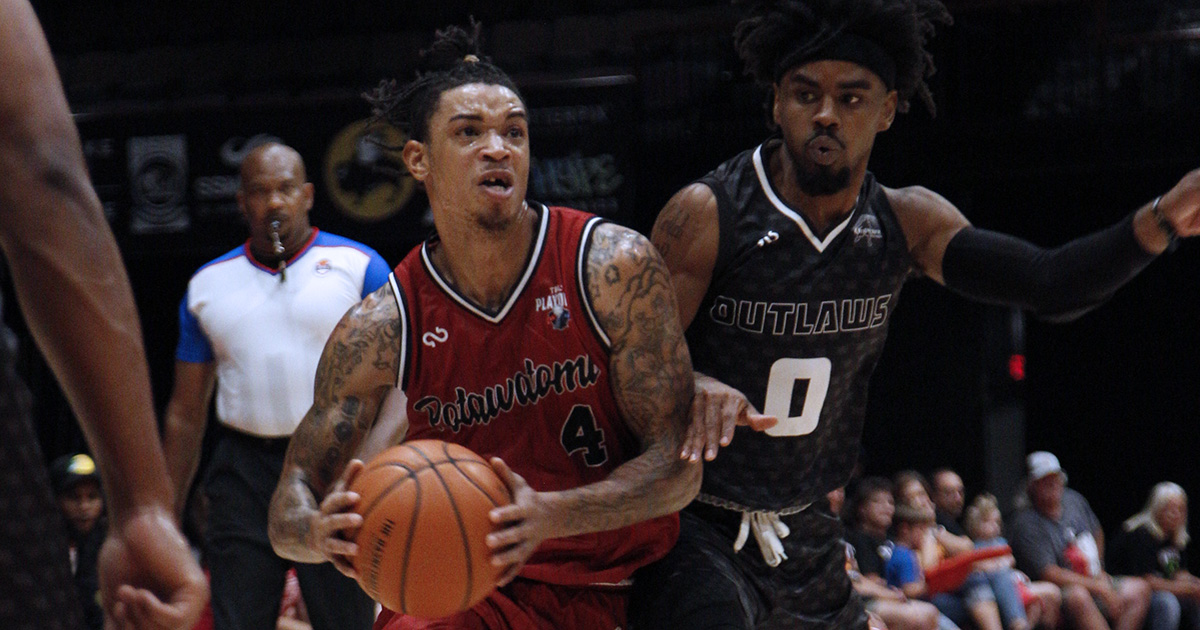 THREE TIMES A WINNER
The Fire took three of four meetings this season, beginning on opening night when the Fire trounced the defending champions on their home floor.
March 1, 2023 — On the 'official' opening night for the 2023 TBL season, the Potawatomi Fire delivered a resounding statement to the defending TBL champions and the rest of the league, with a 128-89 road domination of the Shreveport Mavericks. The new-look Fire held the high-powered Mavs to just 89 points, with 35.2% shooting from the field and 21.7% from outside. After a close first quarter, the Fire controlled the middle two quarters turning a six-point edge into a 40-point cushion. Three big-time offseason signings led the way for the Fire on opening night. Lyle Hexom led the balanced output with 19 points, one of seven Fire players in double figures. Hexom was on fire early and knocked down five of seven treys and grabbed four boards. T.J. Maston posted a double-double with 17 points and 15 rebounds and was 8 of 11 from the field. Another big offseason acquisition for the Fire, guard Chuck Guy had 16 points, eight assists, and three steals. 
March 31, 2023 — What was a close game at halftime between two of the TBL's top teams, turned into a rout as the Potawatomi Fire used a 35-17 third quarter surge to top the Shreveport Mavericks, 131-106. Behind 2022 TBL Most Valuable Player Deshawn Munson's first triple-double of 2023, a Fire team record 34 assists, and eight players in double figures, the Fire rebounded from their first loss of the season and notched their second win this season in two tries over the defending TBL champions. T.J. Maston had a strong comeback effort and led the Fire with 23 points and eight rebounds. Je'lon Hornbeak had 18 points off the bench as the former OU Sooner hit 5 of 7 from beyond the arc. Among their new team record for assists, were the 13 dimes from Chuck Guy. That means twenty-eight(!) assists between two of the Fire's potential all-stars and two players from the same team with 13 or more assists in the same game. Guy also had 16 points and seven rebounds. 
April 21, 2023 — Behind a 40-point swing in the mid part of the game, the Potawatomi Fire kept the top spot in the TBL Central with another convincing 122-103 win over the defending TBL champion Shreveport Mavericks. After the Mavericks took their largest lead at 50-36 with six minutes left in the second quarter, the Fire would go on a huge 65-26 run over the next two quarters of game time. When it was finished, the Fire held a commanding 101-76 lead with eight minutes left in the game. The Fire had six players in double figures, including three with 20-plus points. TBL All-Stars Chuck Guy and Deshawn Munson led the way with double-doubles. Guy had a team-high 29 points, along with 13 rebounds, six assists, and two steals. Munson had 24 points, a dozen boards, and six assists. Fire newcomer Darin Johnson had 22 points with six rebounds. "DJ" also was 11 of 14 from the foul line. 
May 11, 2023 — Two of the issues that have been negatives throughout this year, even in big wins for the Potawatomi Fire, unfortunately, came back to bite them on the road Thursday night. Turnovers and poor free throw shooting cost the Fire in a first-place battle with the Shreveport Mavericks, as the visiting Fire fell, 121-113. The Fire committed 19 turnovers compared to 12 for the Mavericks. Even more glaring were the free-throw shooting numbers as the Fire only made 13 of 28 shots from the foul line (46%) compared to 20 of 22 (90%) for Shreveport. Lyle Hexom led the Fire with 28 points including three of six from outside. Deshawn Munson just missed a triple-double, going for 18 points, 11 rebounds, and eight assists. Chuck Guy also nearly had one as well, with 16 points, 10 assists, and seven rebounds.
TEAM RANKS IN TBL
The Fire tied with the Atlantic City Gambits for the best regular season record in all of TBL at 21-3 and after tiebreakers, own home court advantage throughout the entire playoffs. They are the third highest-scoring team in TBL at 122.5 points per game, trailing the Gulf Coast Lions at 127.1. They are the league's top assist team (which should be pretty obvious with two of the best guards in Guy and Munson) at 26.3 dimes per game. And the Fire are tied for fifth in total rebounds per game with 46 along with West Virginia Grind. Reading Rebels lead the league with 48.3 boards per game.
The Mavericks are right behind the Fire in scoring, as the fourth highest-scoring team in all of TBL at 121.6 points per game. Many of those points come from behind the arc, as the Mavs stand as one of the best three-point shooting clubs in TBL – third in makes per game (13.1) and tied for second in attempts (34.8). Shreveport is also one of the league's best at thefts with 11.4 steals per game, third in TBL.
WHY THIS GUY IS THE GUY
Recently named to the First Team All-Central Conference, MVP candidate Chuck Guy ranks in the top ten in all of TBL with 9.5 assists (2nd) and 2.9 steals (7th). The All-Star guard also averages 15.7 points and 5.7 rebounds. Guy has double-digit assists in 11 games so far and has recorded nine double-doubles and one triple-double. He set the Fire team record for steals with seven thefts versus Little Rock in March. Guy has been the Ironman, as he played the entire game (48 minutes) seven times including both playoff games and 58 minutes in the double-overtime loss at Wichita. His shooting is stellar: 45% from the field, 34% from three-point range, and 78% from the free throw line. But more than just the numbers, Guy is the driving force for the Fire. "We go as he goes," says Fire coach Mark Dannhoff. His leadership, passion, experience, toughness, & basketball IQ have led Fire to tie for the league's best record and home-court advantage throughout the playoffs. The TBL veteran is enjoying his most successful season team-wise, despite a slight dip in his statistical numbers due to the wealth of talent on this year's Fire squad. But that's just the way Chuck would want it.
MARK DANNHOFF ON CHUCK GUY
"Well, the thing about Chuck is this — he plays with such passion. I know some people might look at him and say, does he have an attitude or this or that? But the fact of the matter is, it's just that he plays with such passion and he just wants to win. He's probably the most unselfish player on our team. and people might find that a little hard to believe as well because of his numbers and the things that he can do. But he would give up any accolades, any honors to win and that's what he wants. He wants to win a championship. Chuck comes every day to earn respect and he shows up every day. He plays as hard and when one of your best players plays this hard, that forces everybody else to play hard. He's one of our hardest workers and everybody's got to match that and he demands it from his teammates."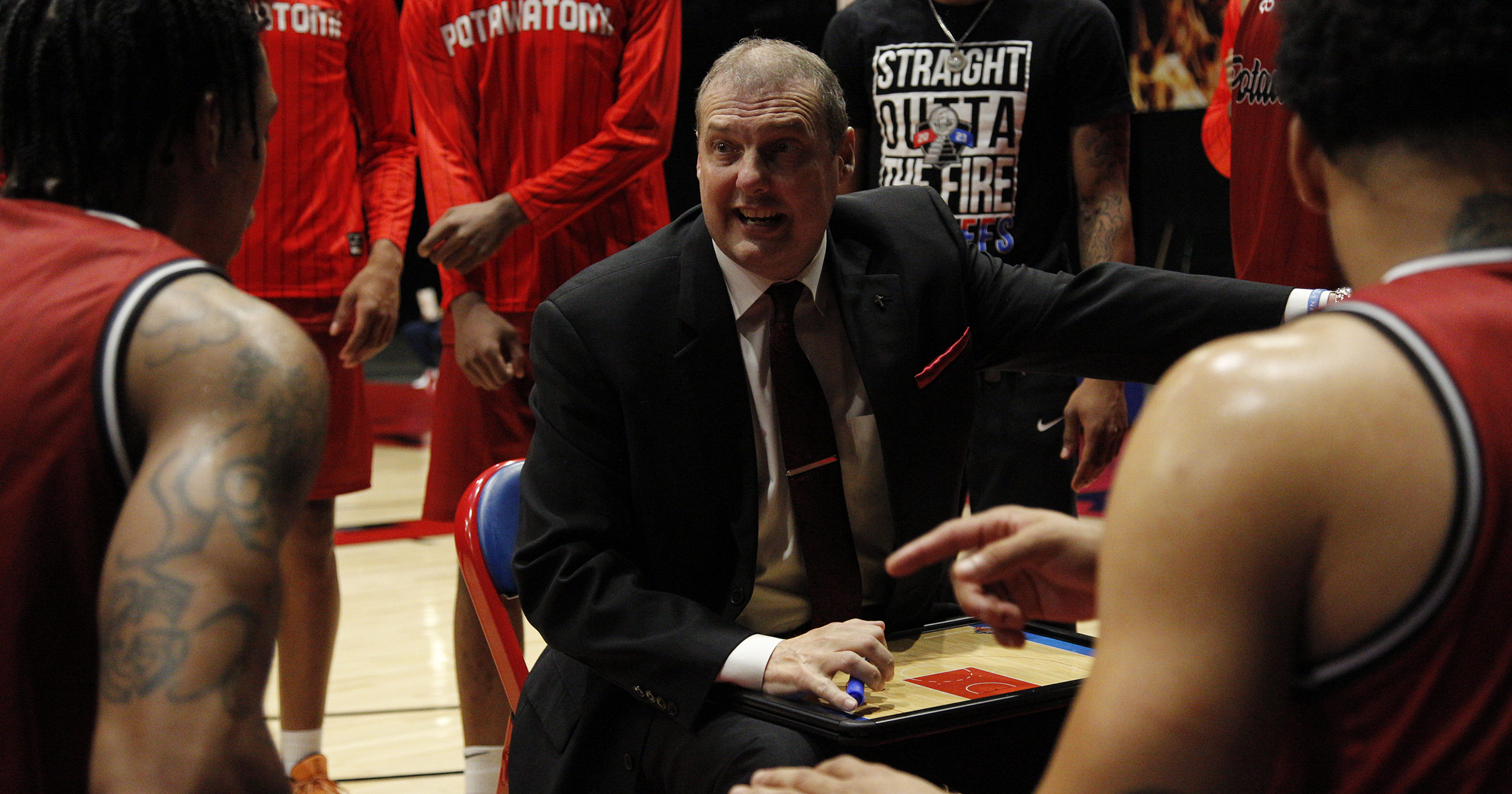 MUNSON IS AMAZING AGAIN
The 2022 TBL Most Valuable Player and two-time All-Star Deshawn Munson has stellar numbers once again but many would say he was slighted when he was named to 'only' the All-Central Second Team. Munson used the slight as motivation and certainly made a statement with his play, following the announcement and really throughout the season. Munson recorded his third triple-double vs Little Rock to close the regular season and has just missed out on others on several occasions including Saturday vs Enid. He also has 17 double-doubles for the season, including the club record with 22 boards vs Rockwall. After playoff stats are included, the 6-4 guard now stands tied for the top in the entire league in total rebounds with 12.2 per game. Munson also ranks fifth in average assists per game with 7.7. Due to the talent and balance across the Fire roster, the scoring totals for all of their players have gone down. But Munson still leads the Fire in points per game with 18.3, one of EIGHT Fire players averaging double figures with three others at eight or more points per game. 
GIMME MOORE AND MOORE
Forward K.D. Moore, who stands sixth in TBL in field goal percentage (61.6%) and eighth in two-point field goal percentage (65.9%), was selected to the All-Central Third Team. Moore is second on the Fire with 17.1 points per game, and also averages six rebounds, 1.8 assists, and 1.1 steals. He's led the Fire in scoring many times this season including Saturday's series-clinching win over Enid. That win also included Moore's season high for assists (6) and blocks (4). His season high for points came against the Wichita SkyKings with 36 in the 105-90 win on April 23. Moore has three double-doubles on the season.
STARTING BIG MEN
A strong argument could be made that the Fire deserved more than three players to receive league recognition. Their two other starters for the majority of the season, Lyle Hexom and Terry "T.J." Maston, had numbers worthy of recognition. Hexom, the 2022 TBL Defensive Player of the Year and someone who often matched up defensively with the opponent's leading scorer, tallied 13.8 points and 6.7 rebounds. He also recorded 21 blocks and 13 steals and shot 36% from outside. The former Big 12 Sixth Man of the Year for the Baylor Bears, Maston started all but a handful of games and averaged 13.2 points and 5.2 rebounds per game. On their performance in the previous playoff series win over Enid, Dannhoff said that he thought "both Paul Harrison and TJ Maston went and had some big moments out there. They were really good. Lyle Hexom has been really terrific for us as well."
BIG PAUL IS A BIG DEAL
Paul Harrison is a major component of the story between both teams. The 6-9, 270 lb. post player played in 2022 with the Shreveport Mavericks and was the TBL Finals MVP helping the Mavs win over Albany in the TBL Finals. "Big Paul" averaged 20.4 points and 8 rebounds last season for Shreveport and tallied 36 points in the championship-clinching win over the Patroons. After joining the Fire in late March, Harrison averaged 10.4 points and 4.5 rebounds in 20 games with the team this year. "We're extremely excited to have Paul here with us," said head coach Mark Dannhoff when Harrison joined the team in March. "We were excited back last summer when we first started talking to him but were unsure if we could even get him to come here. The more we talked, you could feel that this was someplace he wanted to be. He brings more depth and is a completely different type of post-player. He's a game-changer."
MORE FIRE SCORERS
Other leading scorers for the Fire include several off the bench who could've started for most other teams: Darin Johnson, who averaged 12.3 points per game in 13 games with the team. Ruston Hayward averaged 14.2 points per game in 11 games with the Outlaws and then joined the Fire in late April and preceded to score 10.9 points per game in 10 games with the Fire. Je'lon Hornbeak scored nearly ten points a game in 10 games with the Fire in the first half of the season before returning to Texas. Guard Tevin Foster had 8.5 points per game on nearly 40% shooting from outside. Swingman Theo Johnson averaged 7.8 points per game while shooting 42% from beyond the arc. Ricky Artis II joined the team late in the season after starring in a German pro league and averaged 4.4 points per night in a handful of games while mainly being a defensive and rebounding specialist. Guard Rashaun Coleman and center Chris Brand each averaged five points per game with Brand also grabbing five boards per game.
"You've got two teams that have had terrific seasons, finishing right there at the top of the Central, the very tough Central Conference. … It's really gonna be a battle and I think both teams are excited about it, fired up about it, and focused on it. I know it's gonna be really something."

— Fire head coach Mark Dannhoff
SCOUTING SHREVEPORT
Steve Tucker, a veteran of more than 40 years in coaching and nine different professional basketball leagues as well as multiple college levels, serves as head coach and managing general partner of the Mavericks. Tucker has guided multiple franchises in different leagues to championships including the Mavs in 2022. Tucker has over 700 wins to his record and achieved his 500th professional level victory earlier this season.
The Mavericks (20-4 in the regular season) returned five of their TBL championship team members from a year ago. Bernard 'Paul' Parks leads the Mavericks with 26.7 points per game. The two-time All-Star and First Team All-Central Conference member is one of the top outside shooters in the league, both in percentage (43.9%) and number made (100 – 3rd in TBL). Patrick "PJ" Meyers is a dynamic point guard who averages 12.5 points and six assists per game. Bilal Richardson (6-8, 245) is an inside presence for the team, who is averaging 7.3 points and 4.2 rebounds. Forwards Josh Montgomery and Tavin Cummings both averaged about eight points for the season and are excellent from outside, with Josh shooting 48% and Tavin shooting 41%. 
Kadavion Evans is the second-leading scorer for Shreveport at 18.8 points. Evans, who was originally going to join the Fire this season, was a key member of the Enid Outlaws last year playing for Dannhoff and with Guy, Moore, and Darin Johnson. Evans is another gunner from long range, making 35% of his trey attempts. Tyronne Jordan averages 18.1 points and also makes 35% of his outside shots. Jay Hedgeman goes for 13 points and nearly eight rebounds per night. The Mavs also have several big men to rotate in and out including Winfred Ross-Holmes, Gracin Bakumanya, and Madit Maliet.
WHAT'S IT GONNA TAKE?
So Mark Dannhoff, what's it gonna take to beat the Mavericks? "Well, we're gonna have to play like we did versus Wichita at home here and Enid this past weekend in the playoffs. Just have that high level of intensity, that high level of focus. We've got to have a mentality where it's us against the world and we're going to control our own destiny. We're not gonna allow anyone else to come take what it is that we want. We know everybody wants the same thing. Everybody wants to win championships at this point. We're one of eight teams out of 49 that are left in the TBL. It's a great accomplishment, but I think these guys are a bit hungrier for, for making it a little bit further in this thing and seeing what we can do."
What about you, Chuck Guy? What's it gonna take? "We just gotta limit our turnovers. The turnovers fuel their offense. So if we limit the turnovers, it's gonna be in our favor." Guy knows it starts with him, as he runs the offense. "I think I actually had like seven or eight in that (late season loss in Shreveport). If we just limit those turnovers, it won't be that way."
WHERE TO WATCH AND LISTEN
Fans can listen to the action on KGFF 100.9 FM / 1450 AM / kgff.com, with Chris Cox on the play-by-play call. You can also watch the games on TBLTV.tv with a paid subscription. Cox's radio call is the audio for the live stream for all Fire home games. All TBL live streams are provided by the home team in each game.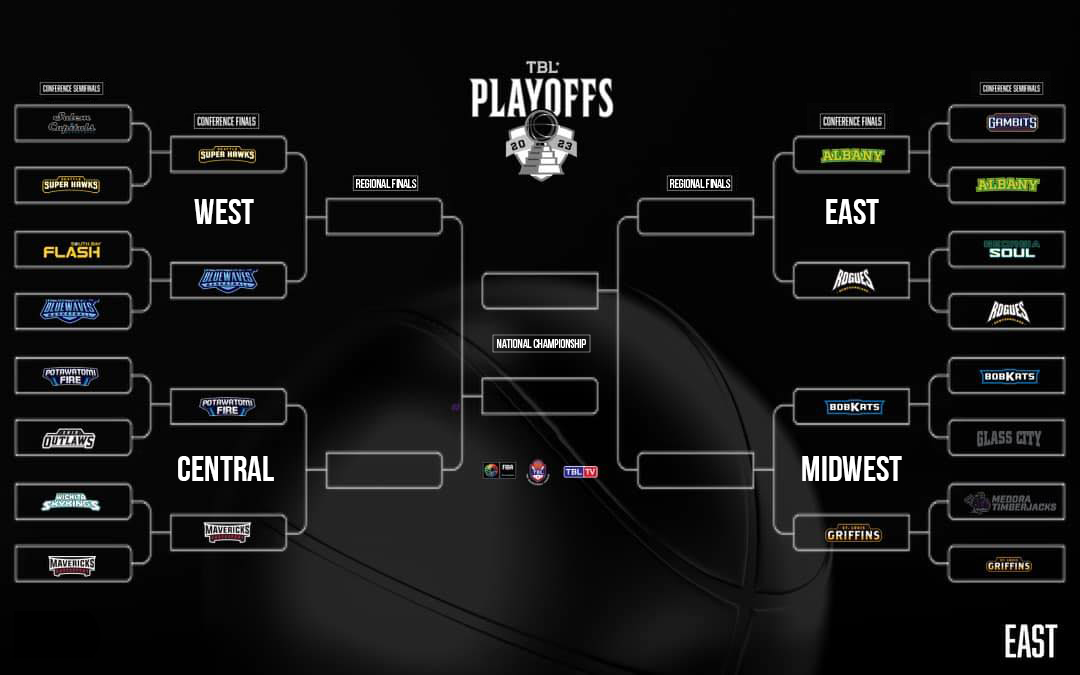 ---
ABOUT THE FIRE IN 2022 AND THE BASKETBALL LEAGUE
The Potawatomi Fire concluded their first TBL (The Basketball League) season in June 2022, winning 21 of 29 games played including the playoffs. They were 18-6 in the regular season to earn the third seed in the Central Conference portion of the playoffs. They won their first round playoff series before falling in the conference semifinal round. The Fire are the first professional basketball team owned by a Native American tribe (Citizen Potawatomi Nation) in Oklahoma. The Fire compete in the Central Conference of TBL, a men's professional basketball league, now with nearly 50 teams in over 20 different states across the U.S. and Canada. The Fire organization was named the 2022 winner of the Jim Koch Award as TBL's Best Ran Business, despite the Fire being a first-year franchise. The dance team of the Fire, the Fire Girls, were named Best Dance Team.
The TBL season begins in February and runs through June, concluding with a championship playoff tournament. The players that make up the rosters of the TBL teams are former NCAA (Division I, II or III) or NAIA athletes. Many have played in the NBA or NBA's developmental G-League as well as professionally overseas for several years and are continuing their careers closer to home or seeking a larger contract in another professional league.
Story by Justin Wollard • Photo by Landon Kidney